So you've gone to Costco and gotten what seems like 20 pounds of squash and now you're thinking "what do I do with a bunch of squash"? Well I have a great dish for you! This One Pan Squash and Sausage recipe is one of my repeat weeknight recipes. It's just easy to throw together and I love the combination of butter, garlic and sausage. I will eat about half of this recipe for dinner and then the rest for breakfast at work. My coworkers always comment that whatever breakfast I'm eating smells delicious!
Jump to:
Years ago I wasn't really a fan of squash. It just wasn't a stand out vegetable for me. Then my grandmother was staying with us for a few months and she made what I call "squish". Just a bunch of squash cooked down with butter and garlic and an onion until it's just a pile of squish. While that may not sound super appetizing, it's honestly delicious and I asked for it all the time. As I got older, I started wanting to cook it, but add protein and that's where the sausage comes in! Adding in a few sausages makes this really a full meal.
Quick Tips for a Faster Meal
One thing that I always recommend getting is a food processor. If you need to slice a lot of vegetables, this will turn a 30 minute slicing job into less than 2 minutes. For a weeknight, this is perfect! Plus I hate slicing veggies. I actually have one from my great-grandmother that is still running perfectly, so it's a great investment! Grab one from Costco, or if you don't have a membership I highly recommend this one from Cuisinart. You can get a version with a dicer as well, which is a game changer for your prep life.
Whichever sausage you use will impart a lot of flavor into your dish, so use one that you love! For this recipe I used a paleo chicken sausage, which brought down the fat content a bit, but I also love using kielbasa sausage or hot links for some spicy flavor! If you want you dish to be ready faster pick a pre-cooked sausage so that you can just add it in at the end to heat up. This is typically what I do, but if yours isn't pre-cooked, add it about halfway into your cooking time so that you can make sure it's fully cooked. Halfway would be about when the squash is starting to soften, but hasn't started to brown.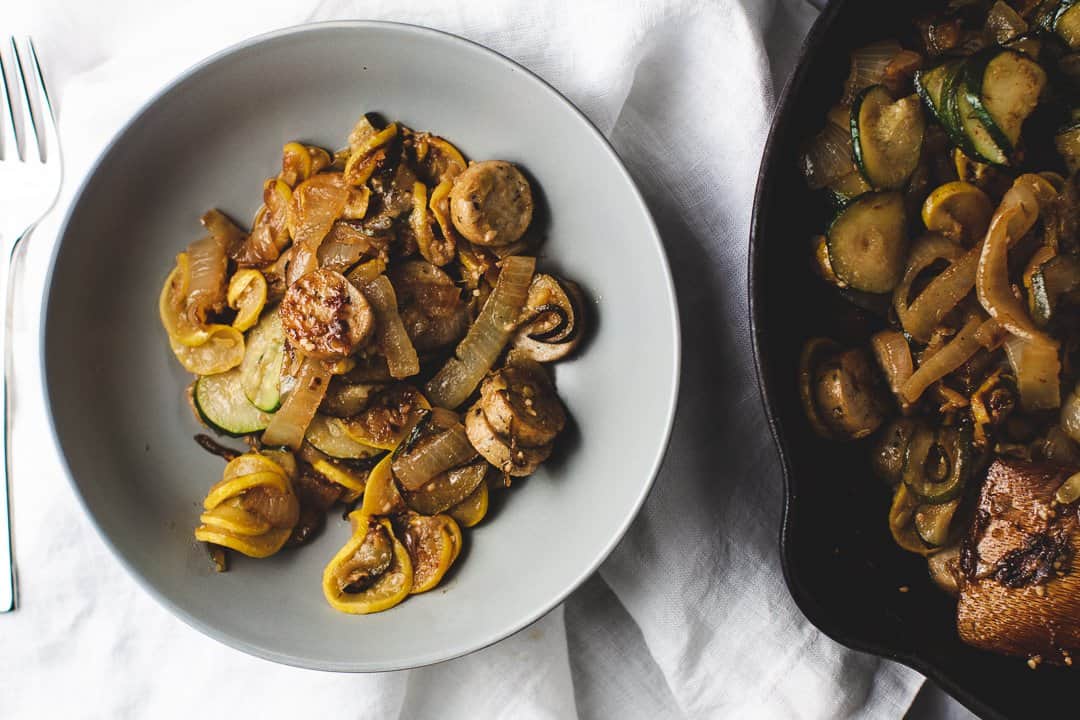 Change it Up for Your Diet
This is pretty easy to adapt for any diet. Vegetarian/vegan? Leave out the sausage and use a butter alternative. Whole30? Watch those ingredients in your sausage and use ghee instead. Keto? Use a higher fat protein like pork so that you really feel satiated. Low fat? Add rice and use chicken sausage! It will not only stretch the meal out more to add rice, but chicken sausage really brings down the fat content. It's already dairy/gluten free so you're good to go there as well!
And that's pretty much it! A friend of mine who doesn't really cook ever or enjoy food makes this all the time (which is a high compliment). Rate the recipe below if you try it so I can see what you think! Always feel free to leave comments with your questions/thoughts/changes. I try and respond to all your thoughts! And follow me on Instagram @thatzestlife for some behind the scenes action and updates on my new recipes! Happy eating!
Recipe
One Pan Squash and Sausage
One pan meals are the staple of weeknight cooking. This Squash and Sausage dish is delicious and quick to throw together. Try not to eat the whole pan!
Ingredients
3

whole

zucchini, sliced

2

whole

yellow squash, sliced

1

whole

yellow onion, sliced

3

tbsp

butter

2

tbsp

garlic powder

1

tbsp

minced garlic

1

tsp

salt, to taste

3-5

whole

sausages, sliced
Instructions
Heat a large skillet over medium high heat, melt the butter.

Add the sliced zucchini, squash and onions. Saute for 5-10 minutes until starting to soften. Don't over stir, as you want to get a browned vegetable.

Add minced garlic, garlic powder and salt. Continue to saute for 15 minutes.

Add sausage and saute for an additional 10 minutes until the sausage is heated through (if using a pre-cooked sausage) and squash is fully cooked through and slightly browned. Serve.
Nutrition
Calories:
193
kcal
Carbohydrates:
8
g
Protein:
2
g
Fat:
18
g
Saturated Fat:
11
g
Trans Fat:
1
g
Cholesterol:
46
mg
Sodium:
166
mg
Potassium:
142
mg
Fiber:
1
g
Sugar:
1
g
Vitamin A:
532
IU
Vitamin C:
3
mg
Calcium:
26
mg
Iron:
1
mg
If you make this recipe, be sure to tag @thatzestlife in your photo! I would love to see what you made!