Homemade Toaster Strudel is a base recipe that you should let your creativity out with. Maybe you think of classic cream cheese and jam as a toaster strudel, but it can be so much more than that! Typically I make this with brie cheese and red pepper jelly, and that's what is in the recipe card. You get all the goodness of baked brie in puff pastry, but you don't have to share or make your own bites. Perfect for standing around a party with a glass of wine, or a snack as you head out the door. Keep reading for other flavor suggestions and to see some of my other favorite variations. I love to think of my favorite flavor combos and vary it up in one batch for my homemade version!
Jump to:
Looking for other dessert type recipes that would be great for a party? You might love Sopapilla Cheesecake Bites!
Equipment Required
One of the things I love most about this recipe is that it's so simple to throw together and doesn't require fancy kitchen equipment. If you ever bake you probably have all of this on hand!
Rolling Pin - You will need to roll out the puff pastry into a larger, thinner piece. I like this thin French rolling pin, because it's smaller and takes up less space! If you don't have a rolling pin you can use a wine bottle, a drinking glass, or your Hydroflask!
Pastry brush - A pastry brush will make your job of brushing on whisked egg much easier! While I've had a more traditional artist brush style pastry brush, I find it hard to clean. I prefer a silicone basting brush! Super easy to clean and you'll find yourself reaching for it over and over in the kitchen!
Fork - This is so that you can crimp the two pieces of puff pastry together. If you do not have one of these already, then I'm just confused.
Baking Sheet with Silicone Mat - I think I call for this in just about every recipe on here. So if you are reading this and you haven't made the jump, it is time! You can certainly use a foil sheet if don't have a baking mat.
Ingredients and Flavor Combinations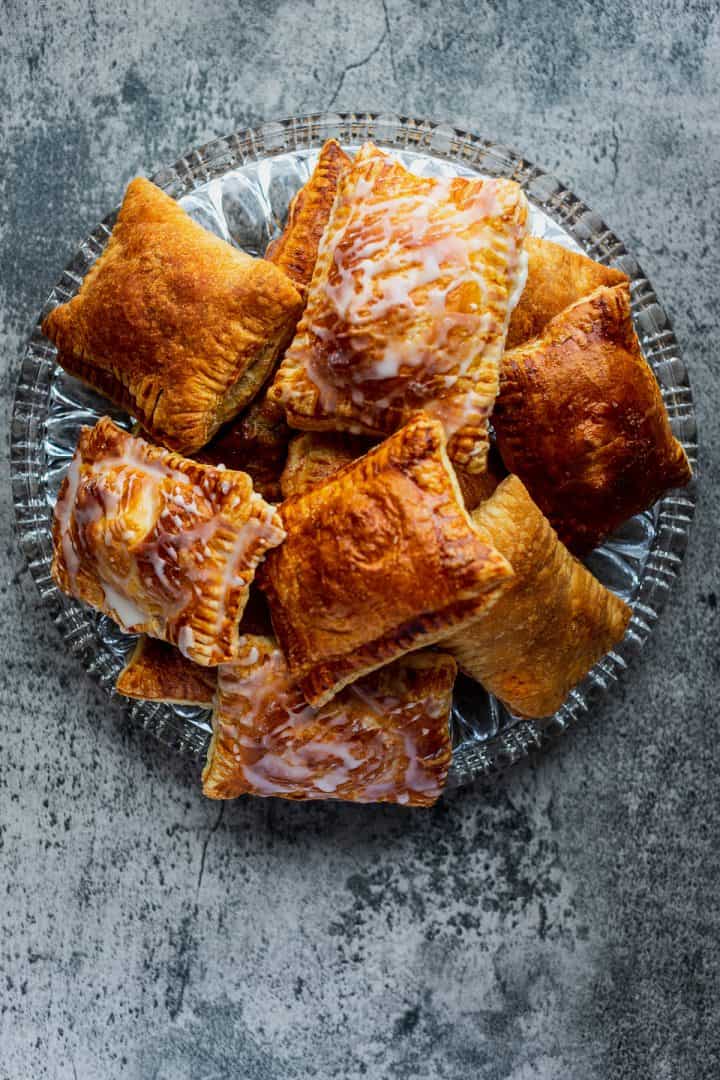 All About Frozen Puff Pastry
What makes homemade toaster strudel taste like the real thing is the flakey puff pastry. You can find Pepperidge farm puff pastry sheets in the freezer isle of your grocery store near the desserts (where the whip cream and pie things are). I like to keep the puff pastry and brie on hand and frozen so that anytime I need a quick meal or snack it's easy to throw together!
My preference is for Trader Joe's Frozen All-Butter Puff Pastry. It's made with real butter (which Pepperidge Farm's is not) which makes it a game changer. Plus you can keep it in the freezer for any of your puff pastry needs for the rest of the year. So if you're reading this in the fall or around holiday season, then go stock up!
Frozen store bought puff pastry is definitely an easier and foolproof way to get puff pastry. Plus at $5 a box (even less at Trader Joe's) it's not worth the effort to me to make it. But if you're feeling antsy at home, I would recommend checking out this recipe for puff pastry from scratch!
Flavor Combos
Now this is where it gets fun. Once I made a batch of homemade toaster strudel and used 4 different kinds of jelly (3 toaster strudels for each flavor) just to see what my preference is. You might want to make some for the grownups and some for the kids! A perfect treat for everyone. Your favorite combinations with cheese would go perfectly here.
My recommended variations are:
Cream cheese and berry jam with icing drizzled over the top after cooling
Brie sprinkled with herbs de provence
Mozzarella with a bit of pizza sauce and a couple of pepperoni
Cheddar with apple slices
Cream cheese and cinnamon (or any frozen fruit, like blueberries)
Brie and pears
Nutella and raspberry jam
Recipe Top Tips and Notes
The first time I made homemade toaster strudels, I did not freeze the cheese and that was a huge mistake. When I went to take the pan out of the oven all of my cheese was all over the pan! It had literally completely melted out of the flakey pastry. It was still decent, but not at all what I had in mind. So trust me and freeze your cheese, whichever one you choose.
Another thing you'll want to consider is whether not you want to egg wash the top before baking. In the photo below, I did them 4 different ways. You can see that it's shiner and browned up more when an egg wash was used. The egg wash can also be handy if you want to add sugar or salt to the top before baking, which I did for the blueberry cream cheese and the red pepper jelly brie ones. Sugar will give it a sparkly sweet crunch which is delicious! Salt is perfect for your savory versions of homemade strudel and I like the texture it provides.
FAQ
Where to Buy Frozen Puff Pastry?
You can find them in the freezer isle near the frozen pies and baked goods. Check out Trader Joe's during the holiday season for one made with butter!
How to thaw puff pastry dough?
Leave frozen puff pastry in the fridge for 4 hours to thaw. You can also leave it on the counter for 45 minutes, or in a pinch I've defrosted mine in the microwave in a paper towel in 15 second increments. Be careful not to unfold the dough before it's ready though or it will crack.
Do you take the rind off brie before baking?
Totally up to you! I don't, but I kind of like the additional texture it gives. If you're looking for pure creamy goodness, then take it off ahead of time.
What goes with baked brie?
Honey, apples, pears, jam, crackers, nuts, fun seasoning. You can't go too wrong! Try out an apple, honey, brie with a sprinkle of salt on the outside if you like salty sweet things.
Can you freeze Homemade Toaster Strudel?
Yes! Assemble them and freeze them on a sheet. Then once fully frozen you can put them into a plastic bag for up to 6 months and bake them on at a time. If you try out cooking them in an air fryer leave me a note! I don't have an air fryer right now and I would love to know how it went.
How long does baked brie last in the fridge?
I would recommend storing them in an air tight container in the fridge for up to a week.
How do you make a Toaster Strudel in an air fryer?
Place parchment paper down in the air fryer. Air fry for 8 minutes at 400 degrees until cooked through.
You will love this fool-proof, endlessly customizable recipe that can fulfill many of your breakfast, appetizer, snack, lunch on the go, wine night needs. I know everyone in your family will love them. If you run into any issues or have questions while making them, please leave me a note! I am here to help.
Recipe
Homemade Toaster Strudel
While this recipe is made for grownups for wine and cheese, let your imagination soar! Homemade Toaster Strudels can easily be made for kids with cream cheese and jam, or into Hot Pockets with pizza ingredients! It's so simple to throw together and keep in your freezer for when hunger strikes.
Equipment
Roller

Pastry Brush

Fork

Baking Sheet with Silicone Mat
Ingredients
2

sheets (1 box)

frozen puff pastry dough, thawed

1

6-8 oz

wheel of brie cheese, cut into 12 pieces then frozen

4

tbsp

jam of choice, I'm using red pepper jelly

1

whole

egg, beaten
Instructions
On a lightly floured surface, roll out each puff pastry sheet into a 12x9 rectangle. With a sharp knife of pizza cutter, cut sheet down the seams, into 3rds. Cut each long sheet of puff pasty into 4ths, so that you have 12 puff pastry rectangles.

Take two puff pastry rectangles and roll them out so they're a bit larger and similar size/shape. In the center of one piece, place 1 tsp of jam, then place 1 cube of brie on top. Using your pastry brush, brush the edges with egg. Place the second square of puff pastry on top and use a fork to press edges together to seal. Place on baking sheet. Repeat with remaining puff pasty and brie.

When all toaster strudel pockets have been formed, place baking sheet in freezer for 10 minutes. 

*Optional: Before baking, cut shape into tops of pastry and brush the tops with egg wash. Sprinkle with kosher salt or sugar, depending on ingredients.

Remove from freezer and bake for 15-20 minutes or until the pastry is golden brown. Remove from oven and place on wire cooling rack. If any cheese has escaped, use a spatula to push it back on top of the toaster strudel.

Allow to cool for approximately 10 minutes. Serve hot or cold, good for up to 1 week in an airtight container in the fridge. I recommend reheating in the microwave for 20 seconds. 
NOTES
Pro-tip: to avoid clumpy egg whites, use your immersion blender on the egg to blend and you'll have creamy eggs that make a perfect egg wash.
See section "Ingredients and Suggested Flavor Combos" for various flavor options.
It's important for the cheese to be frozen, so I suggest cutting them before freezing. 
You want to make sure that they're large enough and have enough egg to get a good seal so the filling doesn't escape. 
If you use cream cheese, keep in mind that it isn't sweet. I recommend either whipping it with sugar and then freezing or topping it with icing.
Nutrition
Calories:
307
kcal
Carbohydrates:
23
g
Protein:
7
g
Fat:
21
g
Saturated Fat:
7
g
Cholesterol:
19
mg
Sodium:
223
mg
Potassium:
59
mg
Fiber:
1
g
Sugar:
4
g
Vitamin A:
113
IU
Vitamin C:
1
mg
Calcium:
40
mg
Iron:
1
mg
If you make this recipe, be sure to tag @thatzestlife in your photo! I would love to see what you made!
We think you might like these recipes too!