Have you ever made way too much sauce and wondered how to use leftover pasta sauce without using pasta? It must be a common predicament since nearly every culture has some form of eggs baked in sauce. Shakshuka originates from Africa and the Middle East and is built around a base of peppers, onions and tomatoes. Eggs in Purgatory is centered around a more classic red sauce, as it is Italian. Huevos Rancheros is Mexican with a base of warm salsa and is typically served with tortillas.
Regardless of what you use for your base, it's easy to see why baked eggs in sauce is gaining popularity globally. It's simple, easy to feed one or a crowd and doesn't cost much money. If you can nest an egg in it, you can make baked eggs in sauce. This recipe is an Italian style Eggs in Purgatory, though I will use these terms interchangeably!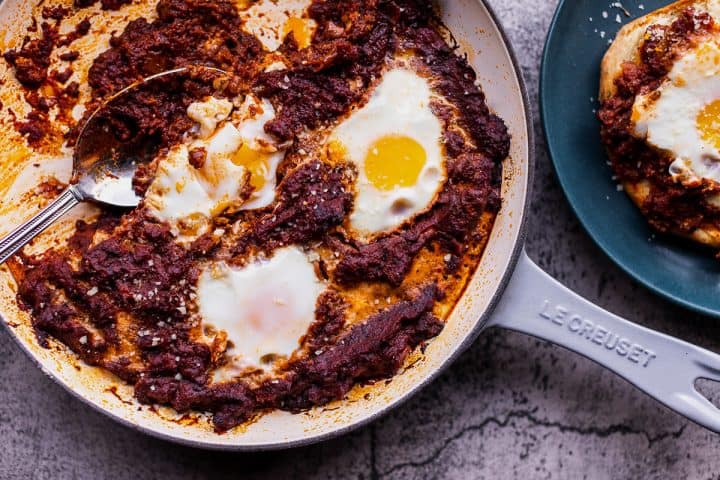 Jump to:
Want to make this recipe extra fast and easy? Use leftovers! I often use my leftover Meat Sauce with Double Italian Sausage. I honestly prefer to serve it this way versus over pasta! Check out the recipe card for more detailed instructions on how I use leftover sauce for a quick breakfast.
Equipment
One of the great things about Eggs in Purgatory dish is that you can cook it in one pan on the stove and serve your entire family. You can use any large skillet that will hold your sauce. I love my enameled cast iron skillet from Le Creuset. I use the skillet for SO many dishes. It's non-stick and it perfect for serving. If you love your enameled Dutch oven you will love an enameled cast iron skillet. If you're looking to save money, this enameled cast iron is beautiful and much more affordable with great reviews. Definitely worth the money!
If you are using a cast iron skilled without the enameling be careful, since according to America's Test Kitchen simmering an acidic dish in cast iron for longer than 30 minutes imparts a metallic taste to the dish. This is why I love the skillet that I use, although it can be a bit small for large batches of Eggs in Purgatory.
Basic Ingredients and Substitutions
If you have been following That Zest Life for a while, you know that I never ever make a recipe exactly as written. I always adjust for my own tastes and what I have in the pantry and I encourage you to do the same! Here is what I used for this recipe, but feel free to make your own sauce or use leftover marinara sauce from last night's dinner.
Bacon- I really like my food smoky with a bit of fat. Crunchy bacon adds those elements and I love it! Plus you don't have to add extra oil to sauté. If you take out the bacon, add in some oil.
Red Onion- I love sautéed red onion because it loses a lot of that bite upon cooking and just becomes sweet. Feel free to use white/yellow/sweet onion or leave it out altogether.
Garlic- I subscribe to the camp of the more garlic the better. I say one teaspoon but what I really mean is one large spoonful.
Italian Sausage- I think that this adds a ton of flavor and a bit of spice. You can use normal ground pork and spice it yourself or add it plain if you like a more tomato forward shakshuka.
Tomato Paste- I do not prefer a watered down sauce. I allow every sauce I make to simmer for a while to thicken. Tomato paste adds umami and thickens up the dish. If you want a more liquid sauce, leave this out.
Lemon Juice- Now typically for a tomato sauce I use wine, but I think for a breakfast dish lemon really brightens the dish up and makes it feel less heavy.
Onion Powder, Oregano, Thyme, Basil- These are all Italian Seasonings and you can substitute for one tablespoon if desired for simplicity.
Smoked Paprika- Again, I'm all about smoky tomato sauce! Leave this out or substitute for standard paprika.
Tomato Sauce- You need a good sauce! If you have a smaller pan, add in a little bit at a time until you have a good sauce and enough room to add at least 5 eggs without spilling.
5 Whole Eggs- Otherwise it's just sauce! The real question is how do you want the yolks to turn out? I like mine fairly runny so I use a glass lid to watch the yolks. Once they have a white film over them, I remove them from the heat and serve.
Toasty Bread- I prefer garlic bread! In the pictures you can see that I made Sally's Baking Addiction Rosemary Pull Apart Bread (which I substituted with thyme).
What other meat and veggies can you use?
To be honest, you can use anything that sounds good to you! This is a place where you can't mess up the dish. Sub out ground beef instead of Italian sausage. Add in artichokes and sun dried tomatoes. Use your grandma's famous red sauce. Leave out the meat altogether!
What sauces are good with eggs?
Ohhh so many. I have done this with pretty much every sauce I make. Have you tried my Salsa Verde with Chicken? The leftovers would be great here! Love butter chicken? Use that! Take a note from the other versions of the dish and use enchilada sauce or salsa. Honestly, this is one of the recipes where I use up my leftovers. Go for it, and let me know how it goes.
Tips and Tricks for Foolproof Breakfast
My number one trick for making this breakfast foolproof is to watch the eggs! I like mine over easy, especially when toast is involved. I use a glass lid and as soon as the egg yolks turn white I pull them off the heat and serve immediately. If you like your eggs cooked a little longer, shake the pan. You'll see the eggs move and that will let you know how cooked they are. If the white move they are way not done. If it's completely cooked. You'll learn with practice to tell! Speaking of eggs, don't forget to salt them. Have you ever had unsalted eggs? Not the best. Salt the eggs before you put the lid on. Your entire dish will taste better.
Frequently Asked Questions
What to Serve with eggs in purgatory?
If I'm doing a Whole30 or Paleo diet, then I will just make an extra chunky sauce and eat them as is with 2 eggs in my bowl. You can also eat them over zucchini noodles or spaghetti squash. If I am making this for company or am not on a diet, I will make garlic bread! Toast with garlic and butter is a perfect vessel for this dish. Sprinkle with parmesan and you have a delicious crostini.
How do you make eggs in purgatory ahead of time?
I would recommend just doing the sauce ahead of time. In fact, I usually use leftover and don't bother making the entire dish from scratch in the morning. The eggs, however, should be made to order. They get rubbery from sitting too long and from being in the fridge. So! If you're not going to eat the entire pan then, make them single serve for your family.
How do you make eggs in purgatory single serve?
Use large ramekins and place them in the oven! Feeding two people? Fill two ramekins with sauce and drop an egg on top. I love ramekins and use them all the time, and this is the perfect excuse to get your own. I have these and I love them!
How do you tell when baked eggs are done?
Shake the pan. No seriously, shake the pan. Does the entire egg move and you can clearly see the egg yolk? Very underdone. Does just the enter move and does it move a lot while you can see the yolk perfectly? Very runny yolk. Is there some movement and the yolk has a white film? Over easy/medium. No movement equals completely cooked.
Can you reheat Shakshuka in microwave?
You can, but I don't recommend it. Make it to order! I have eaten leftovers for work lunch, but it's really just not as good!
And there you have it! Your next solo breakfast, your next company breakfast and your new favorite way to both use up a lot of eggs and also use up all of your pasta sauce. I hope you enjoy this as much as I do! If you make this dish, let me know with a comment here and tag me on Instagram @thatzestlife!
Recipe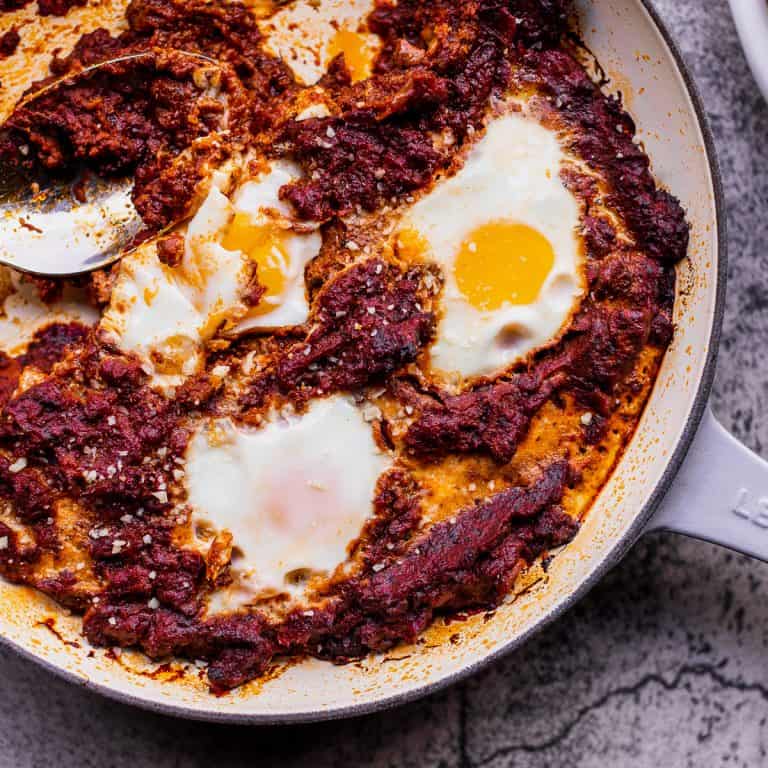 Eggs in Purgatory | Shakshuka
If you're looking for a way to use a lot of eggs or just wanting an egg and tomato meal, you've come to the right place! Use you favorite sauce, or make one from scratch, as long as you can nest an egg in it you can make baked eggs! Shakshuka or eggs in purgatory or huevos rancheros, you have a world of inspiration for this dish!
Equipment
large skillet with lid, recommended to use a cast iron skillet

Spoon
Ingredients
4

slices

bacon, chopped

¼

cup

red onion, diced

1

tsp

garlic, minced

¼

lb

ground Italian sausage

3

oz

tomato paste

2

tbsp

lemon juice

1½

tsp

onion powder

1½

tsp

dried oregano

1½

tsp

dried thyme

1½

tsp

dried basil

1½

tsp

smoked paprika

8

oz

tomato sauce

5

whole

eggs

5

slices

toasted bread of choice

(I prefer garlic bread)
Instructions
In a large skillet over medium high heat, sauté bacon until crispy.

Add diced red onion and stir to combine. Sauté until onions are translucent. Add garlic and sauté for 30 minutes. Don't let the garlic burn!

Add spices and stir to coat. Mix into onion mixture. Add olive as needed until a loose paste forms.

Add in ground Italian sausage and break up in the pan. Sauté until the pink is mostly gone, about 3 minutes.

Add tomato paste and mix well. Sauté until paste starts to brown, about 3 minutes.

Deglaze the pan with the lemon juice (use the liquid to get up the browned bit on the bottom of the pan).

Add in tomato sauce. Stir until well combined. Lower heat to medium and simmer until thickened.

When sauce is thickened, create 5 large craters in the sauce and add one egg to each. Cover with the lid and simmer until the eggs are the cooked to your liking, between 2-4 minutes.

Serve hot immediately with toasted bread of choice. *Optional: top with parmesan cheese and crushed red pepper flakes.
NOTES
If you're thinking this is too much work for breakfast, make my Meat Sauce with Double Italian Sausage the night before for dinner and use the leftovers for breakfast! I usually put the sauce in cold into the skillet with the eggs and bake at 350 for 15 minutes or until eggs are to my liking!
Please let me know if you have questions!
Nutrition
Calories:
257
kcal
Carbohydrates:
21
g
Protein:
10
g
Fat:
15
g
Saturated Fat:
5
g
Trans Fat:
1
g
Cholesterol:
33
mg
Sodium:
780
mg
Potassium:
504
mg
Fiber:
3
g
Sugar:
6
g
Vitamin A:
788
IU
Vitamin C:
11
mg
Calcium:
112
mg
Iron:
3
mg
If you make this recipe, be sure to tag @thatzestlife in your photo! I would love to see what you made!
We thought you might like these other recipes from That Zest Life!