Sure egg bites are all the rage right now, but I think the next big thing is going to be Scotch Eggs. They're protein packed, delicious, and you can make them up so many different ways! When I did my first Whole30, I made a batch of these every week. I changed up the spices for the coating and the type of meat to keep it different and delicious. This version is for chorizo eggs, but read on to get inspired to make your own version.
Jump to:
What are Scotch Eggs?
Scotch Eggs are hard boiled eggs baked inside a sausage coating. Traditionally they're covered in breadcrumbs and deep fried, but it's totally not necessary. They're usually served cold with salad and pickles. Personally I've never eaten them that way so don't worry if that doesn't sound great. I always eat mine warm with hot sauce or an aioli depending on what kind of sausage I put around the outside of the egg.
The Egg
The first thing you're going to start to cook are the eggs. This part is kind of tricky. You want them solid enough to be able to peel, but not completely cooked because they're going to spend time in the oven. Chalky egg yolks are not my jam. Don't worry if it takes you time to figure it out. If you have an Instant Pot, just follow the directions I have below! If you're hard boiling on the stove, I recommend adding a slice of lemon to the pot. It breaks down the shells so you don't have to work so hard to get them off.
The Sausage
The sausage is the part that you can really have fun with. You've got endless options, so really think about what you like! Personally I don't like ground turkey, but if you do then go for it! You can use ground chicken, beef or any combo. The one in this recipe uses ground pork and chorizo seasonings because I enjoy an egg with a punch.
One thing that is fun to do is to look up different meatball recipes to inspire your sausage. I always turn to Well Fed 2, because they have a whole section devoted to different ways to make meatballs. I got this book 6 years ago, and I still consistently turn to this specific section to make either meatballs or scotch eggs. Some of my favorites are her Japanese Gyoza Meatballs and her Merguez Sausage meatballs. To use a meatball recipe for your eggs, just mix up the meatballs like the recipe calls for a proceed as normal!
Well Fed 2 calls for you to mix together warm water with baking soda and cream of tartar and add it to the mixture. They say that it helps with crisping and tenderizing, especially if you're not using egg as a binder. I rarely use egg, so even when I'm making my own sausage creation I always do that step. I don't think it's 100% necessary, but I recommend trying it out! Could be a game changer for you.
If you're looking for a quicker version, you can also just use pre-seasoned ground sausage from the store. Most stores have plenty of options for a breakfast sausage blend. I really like Hempler's Mild Italian Sausage or Hempler's Breakfast Sausage. They don't have added sugar in their sausage which is why I have always made mine from scratch. Check your labels! There does not need to be sugar in your meat.
How to Cook and Eat
When you go to cook the scotch eggs in the oven, make sure that you keep an eye on them! You want the meat to be just cooked, not over done. If you use 1 pound of meat per 4 eggs, then it's going to be a fairly thin layer. I usually check mine after 10 minutes and see if it needs to go a bit longer. This could vary depending on the kind of meat you use as well, and if you use a drier meat like chicken or turkey it'll be especially important to not over cook them.
And finally you get to eat them! Hot or cold, you can't go wrong with these. You can eat them with pretty much anything that sounds good to you! For these Chorizo Scotch Eggs, I recommend some avocado or guacamole and some sour cream. Sriracha is always a favorite with me too. Just think of the flavors of the sausage you made and make your topping decisions based on that! You really can't go too wrong.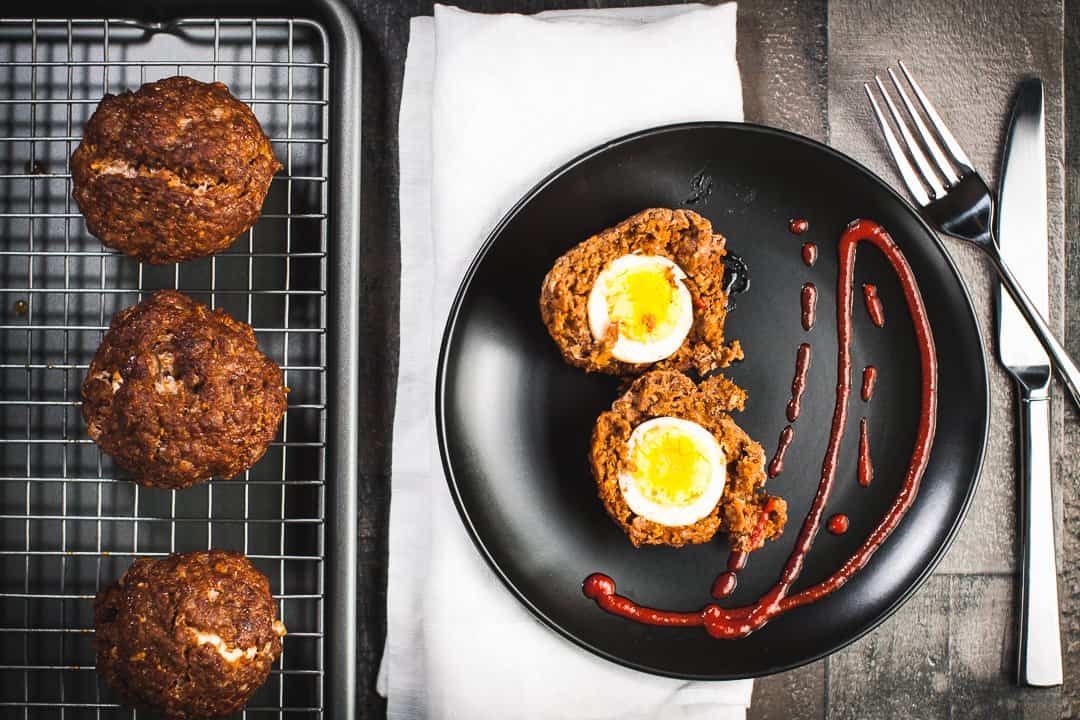 Diet Friendly Versions
Unless you're vegan, this is actually really easy to make diet friendly! It's great for Keto naturally, but there are some modification you might consider for other diets.
Low Calorie
Try changing out the ground pork for ground chicken or ground beef. If you're trying to keep fat low, but flavor high this is an easy substitute to make. I've even seen combonation of ground pork and sausage at the grocery story that is 80/20 fat.
Vegetarian
Time to break out that soyrizo! I've never tried this personally, but there are so many options for a veggified fake meat, I'm sure that you can't go wrong.
If you'd like to see a video explanation, checkout my youtube video! If you enjoyed this recipe, don't forget to rate, review and subscribe for further posts from That Zest Life. Happy eating!
Recipe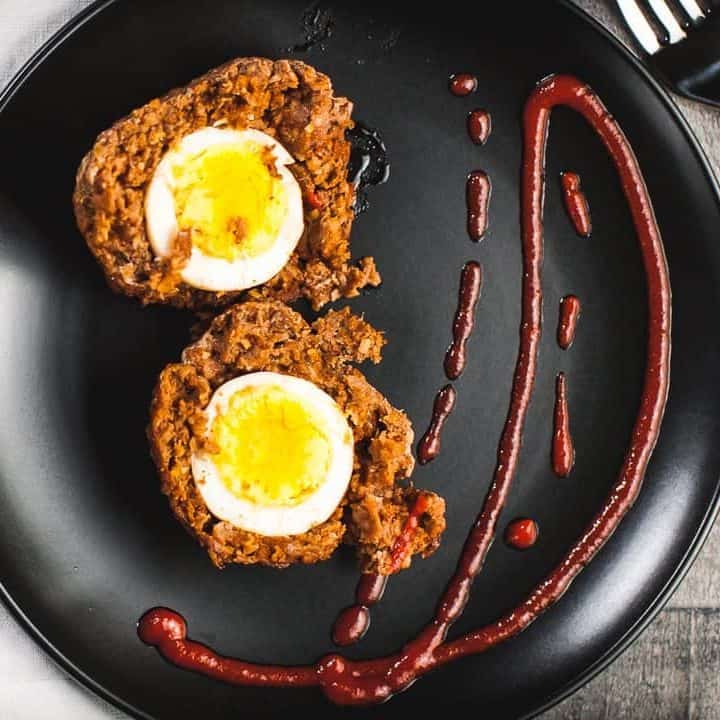 Chorizo Scotch Eggs
Scotch eggs are the easiest way to spice up your meal prepped eggs. Give sous vide eggs a break and wrap them up in meat!
Equipment
Pressure Cooker

baking sheet
Ingredients
4

eggs

1

lb

ground pork

2

tbsp

warm water

½

tsp

cream of tartar

¼

tsp

baking soda

1

clove

garlic, minced

2

tsp

red wine vinegar

½

tbsp

chili powder

1

tsp

onion powder

1

tsp

ground cumin

1

tsp

smoked paprika

1

tsp

chipotle chili powder

1

tsp

salt

¼

tsp

dried oregano leaves

¼

tsp

dried thyme leaves

⅛

tsp

ground cinnamon

⅛

tsp

ground black pepper
Instructions
Place 1 cup of water in the Instant Pot and insert a steamer basket. Place in 4 eggs and turn on to high for 5 minutes. Once timer goes off, let sit for 5 minutes and then manually release the pressure. Place eggs in a bath of ice water for 10 minutes. Peel and set aside.

While eggs are cooking preheat the oven to 400. Mix together warm water, cream of tartar and baking soda.

Mix together all remaining ingredients, including cream of tartar water. Place in fridge until eggs are done.

Split sausage mixture into 4 even portions. Cover each egg with an even portion of sausage. Place on a baking sheet and refrigerate for 10 minutes. Bake for 15-20 minutes.
NOTES
You can make this entire recipe in the Instant Pot! After coving the eggs in the sausage, heat some oil in the Instant Pot over Saute. Brown all sides of the eggs, around 6 minutes total. Remove and place one cup of water into the inner pot with a rack. Place the eggs inside and pressure cook on high for 8 minutes. Once time is done use quick release to release the remaining pressure. 
Nutrition
Calories:
375
kcal
Carbohydrates:
3
g
Protein:
25
g
Fat:
29
g
Saturated Fat:
10
g
Trans Fat:
1
g
Cholesterol:
245
mg
Sodium:
804
mg
Potassium:
520
mg
Fiber:
1
g
Sugar:
1
g
Vitamin A:
959
IU
Vitamin C:
1
mg
Calcium:
62
mg
Iron:
3
mg
If you make this recipe, be sure to tag @thatzestlife in your photo! I would love to see what you made!
As an Amazon Affiliate, I earn from qualifying purchases.