In the winter salads just don't sound good to me. It's a time for warm comforting meals that warm up your soul. Unfortunately a lot of those warm comforting meals are just not that healthy for you. My summer go to of a hearty salad just does not sound appealing when it's cold and raining. This Warm Arugula Salad solves all of my wintertime cold food blues. The hot oven heats up my apartment and the warm salad is perfect for curling on up on the couch with a huge bowl.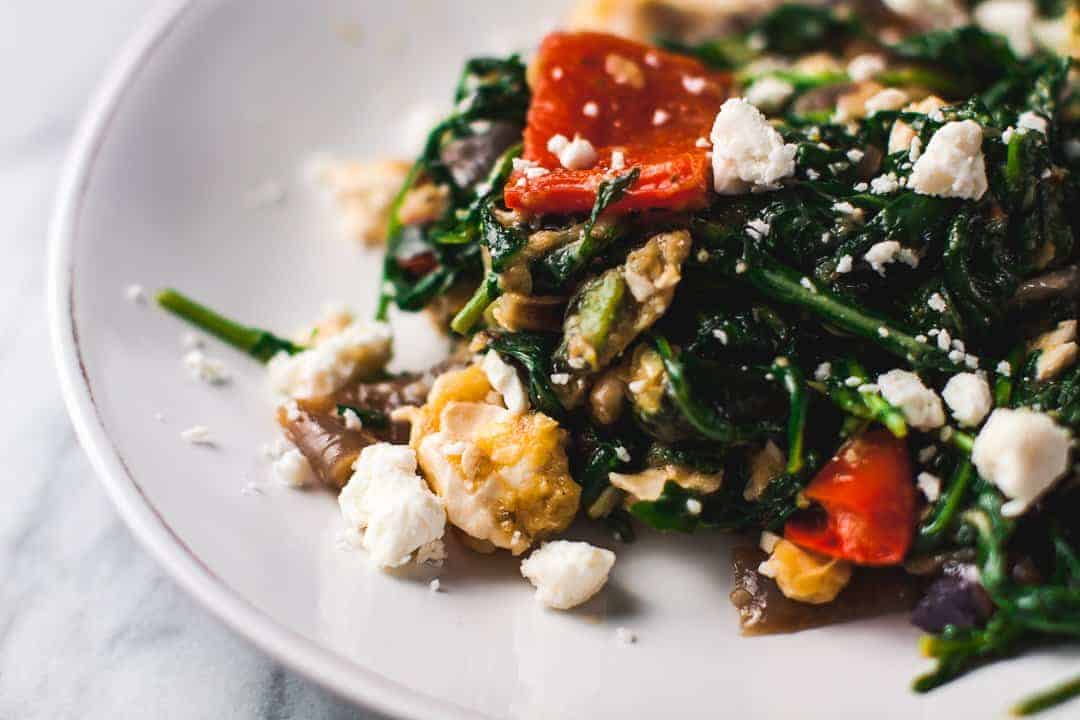 Most of my experience with arugula has been as a topper for fancy burgers. If a restaurant is trying to make their burger sound fancy I swear they just put arugula on top. My first real experience with arugula salad was at a local salad bar. I was really surprised with how peppery and mustardy it is. The seasoning I chose for this arugula salad is meant to bring out those flavors and give you a Mediterranean flavor.
Jump to:
Roasting Vegetables
I honestly just love a roasted vegetable. I will roast an entire pan of a vegetable and happily eat the entire thing. That crust that develops in a hot oven is divine. When making this arugula salad choose vegetables that you love. I chose classic roasting vegetables: onion, pepper and zucchini, but I also love eggplant and broccoli and carrots. By tweaking the vegetables you could build a new dish that keeps you eating salads all winter long.
A key for cutting the vegetables is to do large cuts. You want them to be perhaps slightly larger than bite size so that they take a little longer to cook in the oven and can get a beautiful caramelization. This also helps them to hold their shape when mixing as well. If you cut into smaller portions, just keep an eye on them as they cook so that they don't become too mushy. As you mix your salad at the end mushy vegetables will completely come apart.
The Secret to Perfectly Roasted Vegetables
Roasted vegetables are perfect when they're firm and browned on the outside while perfectly cooked on the inside. There are two keys to getting them this way. One is a hot oven and the other is a hot pan. So while you're chopping the vegetables, preheat your oven to 475 WITH the pan inside. This creates a more crispy vegetable overall because you're not trying to heat up the pan and the vegetables. They start searing right away once you put them on the hot pan.
I don't use aluminum as a non-stick surface for my pans because I don't want any of that seeping into my food. I love these silpat reusable silicone mats. They're food safe and environmentally friendly because they're endlessly reusable. I have 2 half sheets and 2 quarter sheets that I use all the time for creating non-stick surfaces in the oven. Word of caution, they will hold up a lot better with handwashing although I occasionally put them into the dishwasher.
Once you've got everything chopped up and ready to go, grab those pans out of the oven, throw the vegetables on the mat with a drizzle of olive oil. Don't overcrowd the pan! You want everything to have room to breath. It's ok to use multiple pans and put them on different racks. Just change the rack positions half way through when you toss the vegetables.
And Toss!
Once the vegetables are done, let them sit for a few minutes and then just drop them straight from the pan into a big bowl on top of the arugula. It's going to seem like a lot of arugula at first, but trust me on this one. The hot vegetables wilt the arugula and they reduce drastically in size.
This is where you add in the additional flavor elements. I pulled out my favorite cookbook, The Flavor Bible, to see what flavors make Greek food taste Greek. This cookbook has no recipes, but I love it because you can look up any ingredient or cuisine and it will tell you what flavors taste good with that ingredient. For a Greek salad I decided to use garlic, oregano, dill, lemon and red wine vinegar, but there were plenty more options to choose from! It really takes the guesswork out of what flavors go with what or how to create a cohesive dish.
Changing it Up
There are a ton of ways you could make this arugula salad your own. Change the vegetables, add meat (I love adding shrimp), change the seasonings, use spinach instead, add nuts, change the cheese etc. Think about a cuisine that you like. What vegetables do they usually use? What are the main spices? What cheese do they gravitate towards? What meat do they use? Then start incorporating those into the dish. This is where The Flavor Bible really comes in handy. Look up the cuisine you're trying for a run with it!
What About My Diet?
Well I mean this is a salad! It's going to fit into most eating styles easily. If you're doing Keto I would be mindful of using vegetables with too high carb count. Easy fix though! You can use more cheese and steer away from starchy vegetables. Overall you're going to get healthy fats and lots of vegetables out of this meal.
I think you're going to be surprised by this one! It's both warm and comforting and healthy. If you try this or any of my recipes, let me know! I'd love to hear from you. Leave any questions or thoughts in the comments below and don't forget to rate, review and subscribe. Happy eating!
Recipe
Warm Arugula Salad with Roasted Vegetables
A perfect winter time meal that is comforting and healthy. It's ideal for your January healthy eating resolutions no matter your diet.
Equipment
Roasting pans

Large bowl

Silicone mat
Ingredients
1

red bell pepper, large chopped

1

red onion, large sliced

2

yellow squash, large diced

3

zucchini, large diced

¼

cup

olive oil

1

tsp

salt

7

oz

arugula

6

oz

feta

2

tbls

red wine vinegar

1

tsp

lemon juice

1

tsp

dried oregano leaves

1

tsp

granulated garlic
Instructions
Preheat oven to 475 with the roasting pan in the oven.

Chop vegetables and add to preheated pan. Toss with ⅔rds of the olive oil. Sprinkle with salt. Roast for 30 minutes, tossing halfway through.

Place arugula into large bowl. Once vegetables are done, let sit for 3 minutes and then place directly onto bed of arugula. Add red wine vinegar, lemon juice, oregano and salt and toss until arugula is fully wilted. Salt to taste and add feta. Mix and serve.
NOTES
Be careful not to over toss. The vegetables will break down. 
Add steamed shrimp for additional protein. 
Nutrition
Calories:
206
kcal
Carbohydrates:
11
g
Protein:
7
g
Fat:
16
g
Saturated Fat:
6
g
Cholesterol:
25
mg
Sodium:
724
mg
Potassium:
644
mg
Fiber:
3
g
Sugar:
7
g
Vitamin A:
1853
IU
Vitamin C:
61
mg
Calcium:
225
mg
Iron:
1
mg
If you make this recipe, be sure to tag @thatzestlife in your photo! I would love to see what you made!
As an Amazon affiliate, I earn from qualifying purchases.