I love meatballs. I love them in sauce, I love them on pasta, in barbecue sauce, on toothpicks, Japanese style, Swedish style... I could go on. If you also love meatballs then this recipe is for you. It is a one sheet dinner where you roast meatballs on one side and broccoli on the other. This is a go to meal for me because it is so easy to throw together and also mix up in order to avoid getting tired of the same flavors. Sheet Pan Meatballs and Roast Broccoli is a perfect meal for any time that you have to get food on the table quickly and in quantity.
Jump to:
I've mentioned this before and I'll say it here again. One of my most picked up cookbooks is Well Fed 2 and it's because of the "Burgers, Balls & Bangers" section. She basically gives you instructions for throwing together perfect burgers/balls/bangers and then a whole bunch of ways to flavor them. It's super easy to follow and it makes it so easy to find a meatball that's flavored the way you need it to be for your recipe. For this recipe, I followed the Romanian style mostly, using what I had on hand and her recipe as a guide. She calls for a different meat mixture, but I used all pork. They turned out super savory and full of flavor.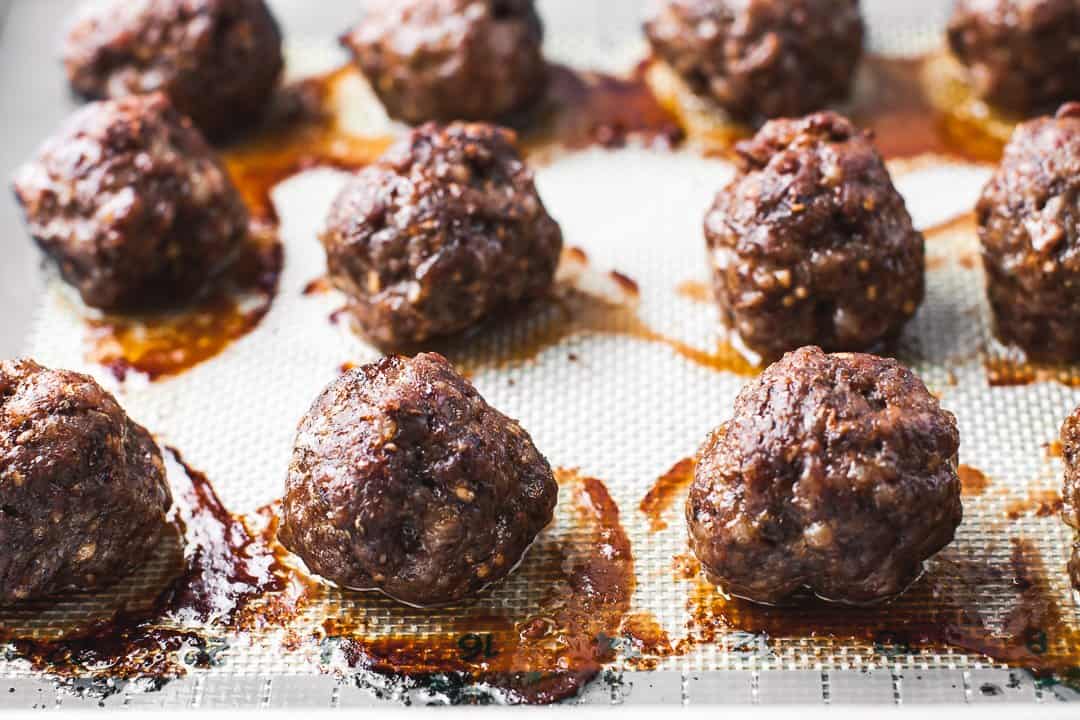 Mixing the Meat
There are a few things that you can do to make making meatballs quick and easy. First is to use your Kitchenaid Stand Mixer to mix up the meatballs. Kitchenaids get a lot of show for baking recipes, but mine is regularly taken out to make meatballs. Grab your paddle mixer with the silicone edge and toss all your ingredients in. Turn that baby on and let it mix it for you! They key is to not overmix. That will give your meatballs a super weird texture. Just keep an eye on it and stop when the ingredients seem fully incorporated. I don't usually need more than 30 seconds. Of course, if you don't have a stand mixer, you can just use your hands or a spoon to combine.
Seasoning the Meat
If this is on rotation at your house, don't forget to mix up the spices for different flavor. A friend of mine recently asked me how to make different versions of chicken and rice for his meal prep and I just told him to start adding different spice blends. It's such a simple way to make a repetitive dish taste different. I talk a lot more about the different ways to flavor ground meat in my Chorizo Scotch Egg recipe, so check that out for more ideas on flavors for meatballs!
Making the Balls
For the forming of the meatballs, it's really important that you make them all the same size because they need to cook at the same time and be done at the same time. To make this easy you have a couple of options! A lot of times, I will just use a tablespoon measure to scoop out the mixture in approximately even amounts and then form the meatballs by hand. Recently, I got a set of ice-cream scoops which help you get a perfect amount of mixture no matter what you're measuring! The trigger really helps them drop the mixture out of the spoon and get perfect meatballs every time.
**Quick note: I have the 6QT Bowl-Lift stand mixer and a double sided silicone edge paddle. I really hate having to use my hands or a spoon to mix things so this is a life saver. A lot of people also love the tilt-head version of the stand mixer, which I can imagine it being amazing to have room to dump ingredients in! Either way if you choose to get one and grab a paddle, make sure that they are all compatible.
Perfect Charred Broccoli
A few years ago I was introduced to charred broccoli. It was on the menu at a very fancy happy hour spot I went to with friends from work. They were so enthusiastic about getting the charred broccoli and to be honest with you, I straight up did not get why. Even when it came out to the table, my first thought was "this is burnt broccoli" and why would I eat this with mayo??" Friends, let me tell you. This s*** is dope. Charred broccoli manages to be perfectly crispy with a full flavor that makes it perfect to eat alone. I was a charred broccoli convert.
But then I tried making it myself and it was just not the same. It tasted actually burnt and just no flavor. I tried so many recipes from different sites trying to recreate the flavor I had experienced. It wasn't until I ran across a site that recommended folding mayo into the broccoli. I know, I know, it seems super weird. But the site explained that mayo is essentially oil and egg mixed together and that by making it into a mayo form you're helping the oil to really stick to the broccoli and impart more flavor as it cooks.
And it works! Finally, I was able to get the flavors to stick that I wanted. The mayo helps really give this creamy and crispy texture as it cooks and I won't make broccoli any other way. I usually make my own mayo, but you can also use whatever you have on hand. I can eat a whole pan of this stuff myself. Just keep an eye on it, since you can burn them. You want a beautiful dark brown with part of black, not all black broccoli.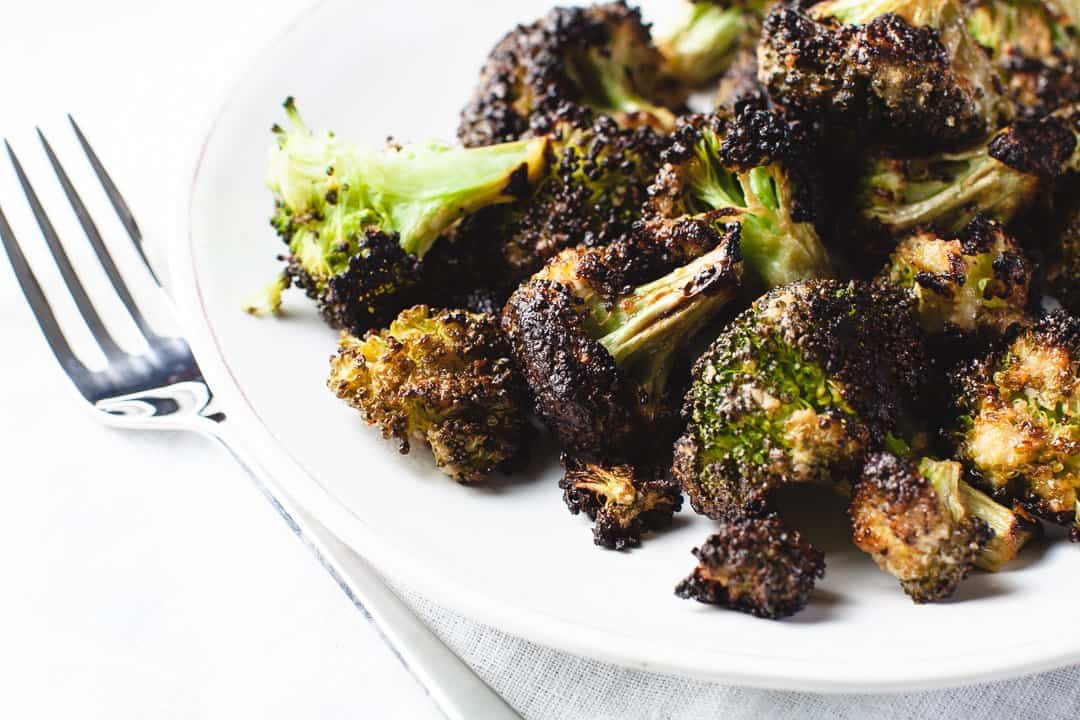 The beauty of this dish is that it all cooks together at the same temp for the same amount of time. Make the meatballs first and while they're setting toss the broccoli together. The punch of lemon from the broccoli really adds a brightness to the meatballs that I love. One of my absolute favorite breakfasts is to use these as leftovers with eggs and potatoes. Sprinkle some paprika into the butter in the pan before you fry the eggs to impart an amazing flavor to the eggs that compliment the flavors here really well.
I hope you love these as much as I do. I'd love to hear what you think and if you make these your own! Tag me on instagram for a shout out and some <3. Keep living #thatzestlife yo. Until next time!
Recipe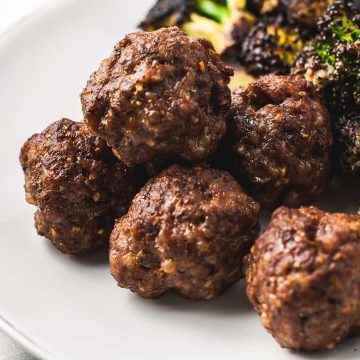 Sheet Pan Meatballs with Roasted Broccoli
An easy meal to throw together any time you're looking for something delicious and quick. A quick change up of the spices makes for a whole new meal!
Equipment
Roasting pan

Silicone baking mat

Mixing bowl
Ingredients
For the Meatballs
1

lb

ground pork

2

tbsp

warm water

½

tsp

cream of tartar

¼

tsp

baking soda

1

tbsp

minced garlic

½

tbsp

paprika

1

tsp

salt

1

tsp

dried oregano leaves

1

tsp

black pepper

¼

tsp

ground cloves
For the Broccoli
1

lb

broccoli florets

½

cup

mayo

¼

cup

lemon juice

1

tbsp

minced garlic

1

tsp

garlic salt
Instructions
Preheat oven to 475, with pan and silicone mat inside the oven.
Preparing the Meatballs
In a small bowl, mix together water, cream of tartar and baking soda.

In a large bowl, thoroughly mix together remaining meatball ingredients, including baking soda water.

Form into meatballs of approximately 1 tbsp mixture each.

Place the meatballs into the fridge while preparing broccoli.
For the Roasted Broccoli
Add remaining ingredients into a large bowl and stir until well mixed. Place broccoli florets into the bowl and toss with a spoon until each broccoli piece is evenly coated.
Baking
Remove pan from oven. On one half, spread out roasted broccoli. Ensure that you don't crowd the pan.

On the other half, place the meatballs about ½in to 1in apart. Depending on the size of your pan you may need two pans.

Roast for 20-30 minutes, tossing broccoli halfway through and checking meatballs for doneness. And serve!
NOTES
The leftovers for these are amazing with fried eggs and some potatoes. Fry your eggs with a bit of paprika in the pan before you drop the eggs in. 
Mix up the meatballs with whatever ingredients you can think of! The broccoli will be good with just about any meatball you can think of. 
Nutrition
Calories:
545
kcal
Carbohydrates:
12
g
Protein:
23
g
Fat:
46
g
Saturated Fat:
12
g
Trans Fat:
1
g
Cholesterol:
93
mg
Sodium:
1512
mg
Potassium:
808
mg
Fiber:
3
g
Sugar:
3
g
Vitamin A:
774
IU
Vitamin C:
112
mg
Calcium:
90
mg
Iron:
2
mg
If you make this recipe, be sure to tag @thatzestlife in your photo! I would love to see what you made!
As an Amazon affiliate I earn from qualifying purchases.