I've been eating artichokes for as long as I can remember, which is probably surprising to most people. My dad would buy huge jars of marinated artichoke hearts in the fridge and that was an approved snack I could have pretty much whenever I wanted. As I got older I knew that you could get artichokes at fancy places that were stuffed with cheese and breadcrumbs, but I never actually ordered them. It wasn't until a coworker mentioned that she had an artichoke every weekend that I became aware that you could just cook them yourself! She had to explain to me both how to cook and eat an artichoke. I tried it that night and I was hooked! It's super simple and I'm hoping you discover the artichoke too!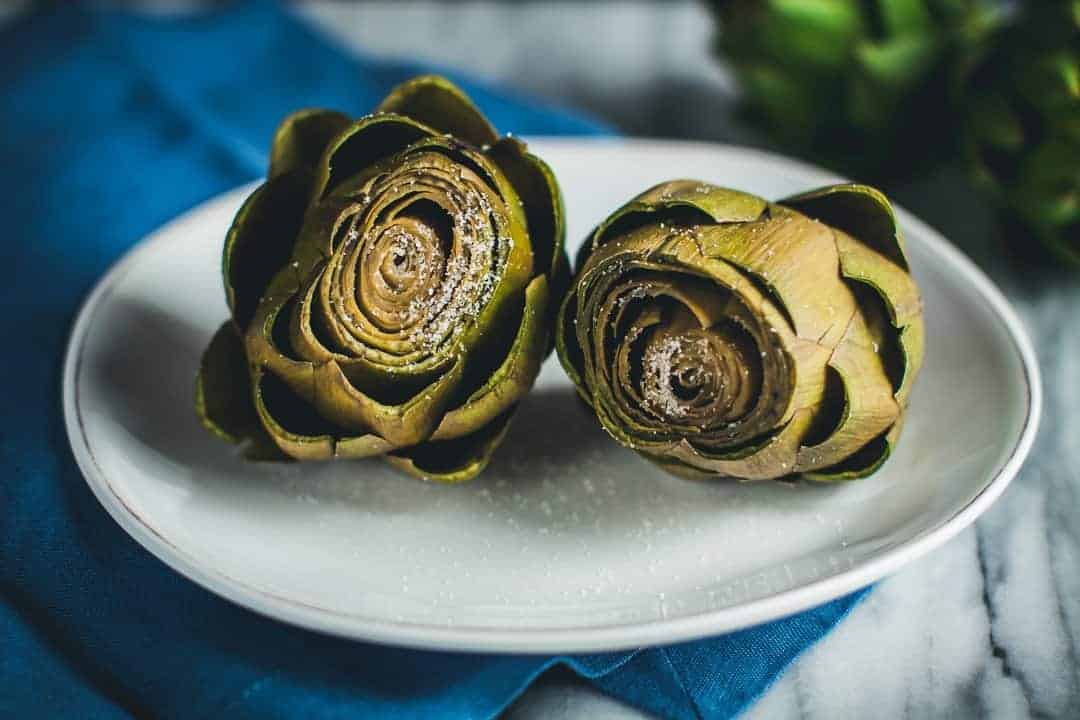 Jump to:
Methods of Cooking
There are a ton of ways to cook an artichoke if you look. You can steam them, grill them, broil them, stuff them, and boil them. Then, if you take off the petals and just take the artichoke heart, that opens up a whole other set of things you can do! The best way to cook an artichoke, in my opinion, is just a simple steam with salt. It's easy, it's healthy and will fit into just about any diet I can think of.
Preparing an Artichoke
The first thing you do to prepare an artichoke to eat is to cut off the top. You don't want to necessarily cut down too far, but 1 inch or so should be perfect. Remove any small leaves from around the bottom that don't seem like they have much thickness to them. You only eat that meaty part of the leaf, so don't bother cooking what won't be eaten!
One quick note, Trader Joes has 4 individual sized artichokes for about $2.50! I eat 2 for a snack or prepare all 4 for a group.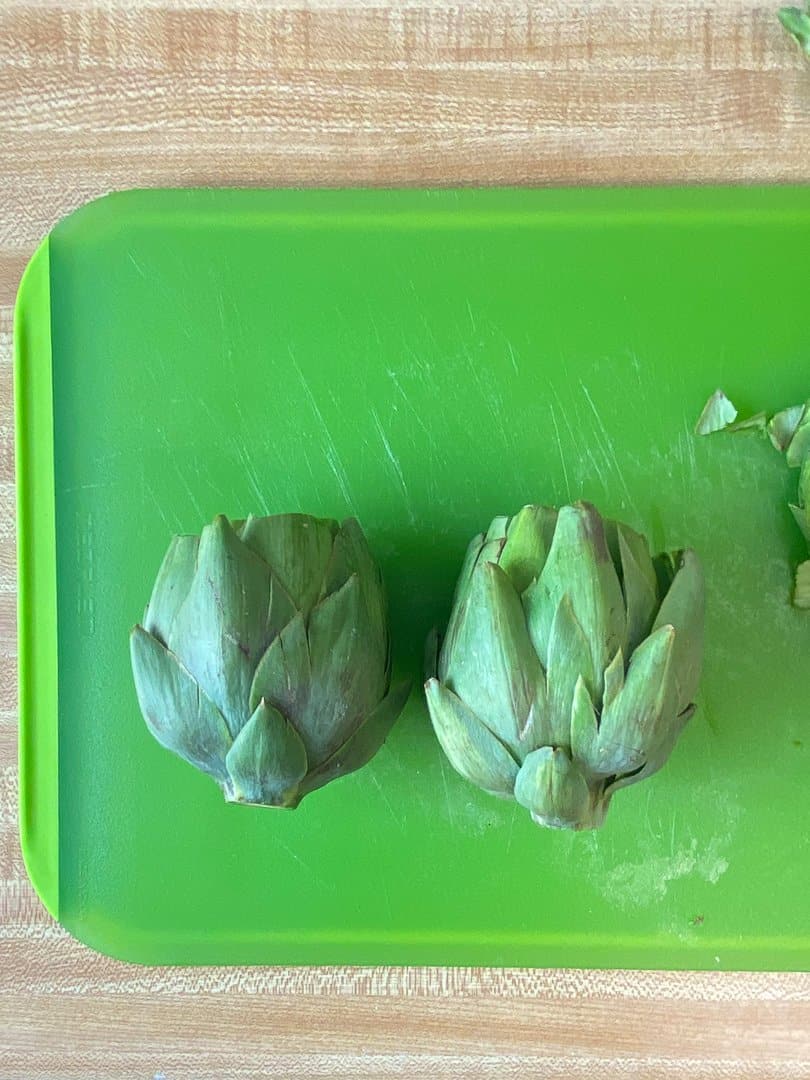 Next you want to take a pair of scissors, and just snip of the ends of all the remaining leaves. This prevents you from getting poked as your eating and lets some more steam in. Also, slightly pull apart the leaves to spread them out.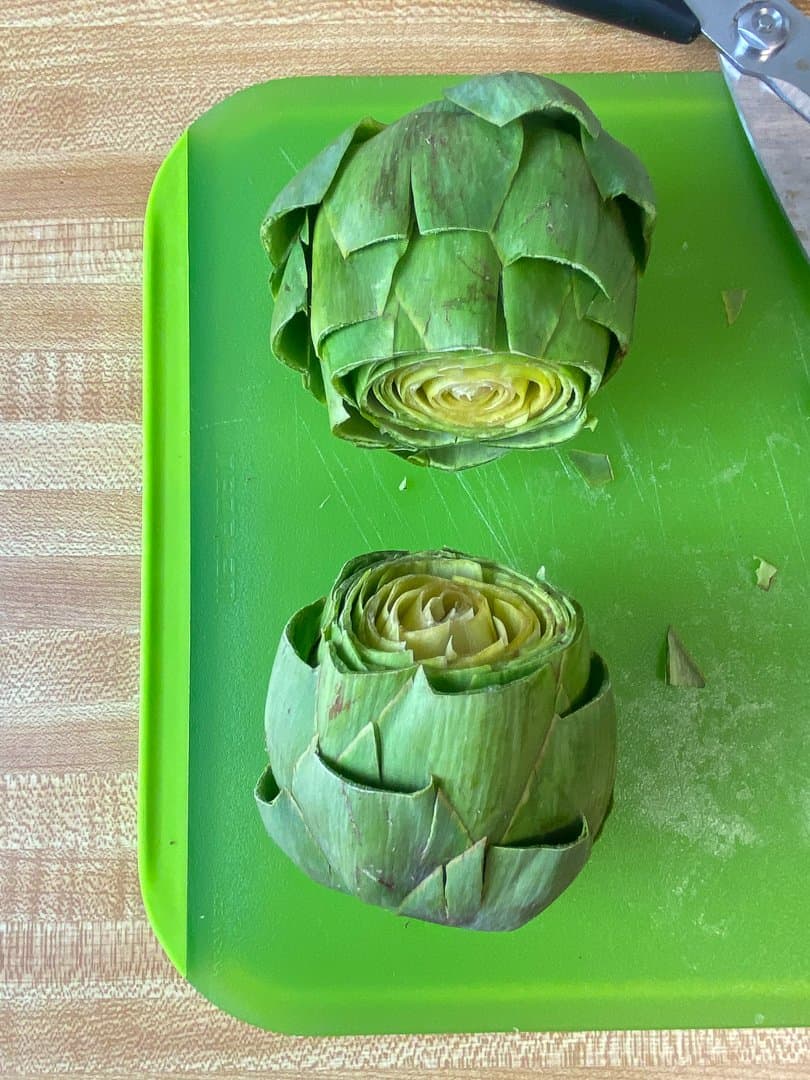 Steam on the Stove
Next, place them face down in a steamer basket over boiling water. Depending on the size of the artichoke, you'll want to steam for 15-30 minutes.
If you need a steaming setup, I use the All Clad Steamer Cookware. It's great for a lot of uses, is large enough for several artichokes, and All Clad is great quality at a great price.
Microwave
If you're looking for a faster way to food, don't be afraid of microwaving them! Put ½ cup of water in a bowl, place the artichoke face down, place a plate on top, and microwave for 5 minute intervals until done.
Instant Pot
Place 1 cup of water in the Instant Pot, then place a steamer basket inside (this basic one has so many Instant Pot uses). Add the artichokes face down. Steam on high for 10 minutes (12 if your artichokes are large) and then quick release! You can add different flavors to the water to subtly season the artichoke, but I oftentimes just use water and let the dipping sauce carry the flavor.
You can honestly place the artichoke face up or face down. I prefer face down so that the water doesn't collect inside. You'll know when the artichoke is done when you can slide a knife easily into the stem. Sprinkle a little salt on top and then you're ready to eat!
Methods of Eating an Artichoke
One of the funniest moments I've had with a friend of mine is a time I served artichokes at a girl's night. I had explained how to eat the petals, but didn't say anything about the choke or the heart. A few minutes later we noticed that her artichoke was completely gone! She had eaten the choke and all! It might have scarred her for life so read carefully to make sure that you don't make the same mistake!
Pull off one leaf at a time.
Dip the thicker base of the petal into sauce or melted butter. I use my bottom teeth to pull the leaf through to remove the soft portion of leaf. Discard the hard part of the leaf that remains.
Once you get to the base, spoon out the fuzzy center and discard. Eat the entire remaining part of the artichoke which is the heart!
Don't worry, the choke of an artichoke isn't poisonous. It's just really hard and fuzzy and gross.
Click on the video at the end to see a super fabulous demonstration by yours truly 😉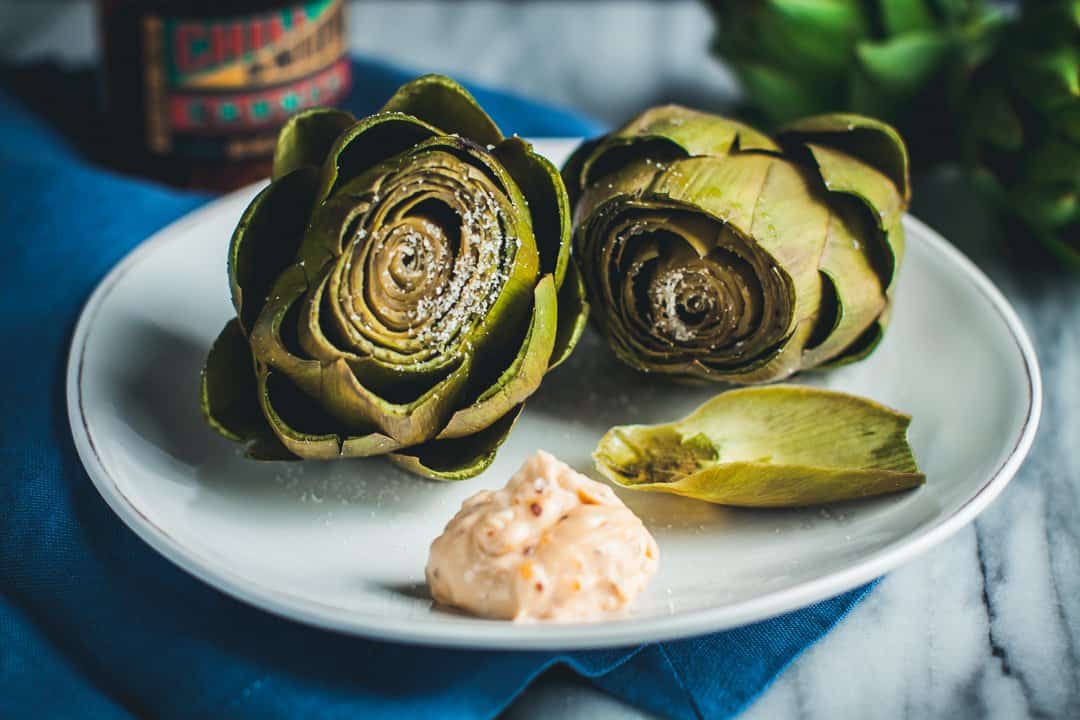 Artichoke Dipping Sauces
I love dipping sauce and I love any meal that requires a lot of sauce. What's great about eating an artichoke is that you can dip it into anything that you fancy. Butter is traditional. I usually put a small bowl with butter on top of my steamer so that it melts as I steam. Add a little garlic salt and some lemon and you're done! I'm also a huge fan of mayo with lemon juice and seasoning salt. Or ranch. ALWAYS ranch. I'm from Texas and we think ranch goes with everything.
This is where you can really suit this to your diet as well. Keto can get away with really rich mayo sauces. Paleo will want to stay away from any weird oils and have their sauce made with olive oil or avocado oil. Vegan? Try out a chimmichuri! It adds such great flavor to the artichoke.
This is just a base model artichoke, but don't be afraid to upgrade once you've gotten the hang of it! Cut it in half and broil it. Stuff it with parmesan. Smoke it on the grill. The possibilities are endless here. Made your first artichoke? Tag me on Instagram! You can find me @thatzestlife everywhere you can be social.
Recipe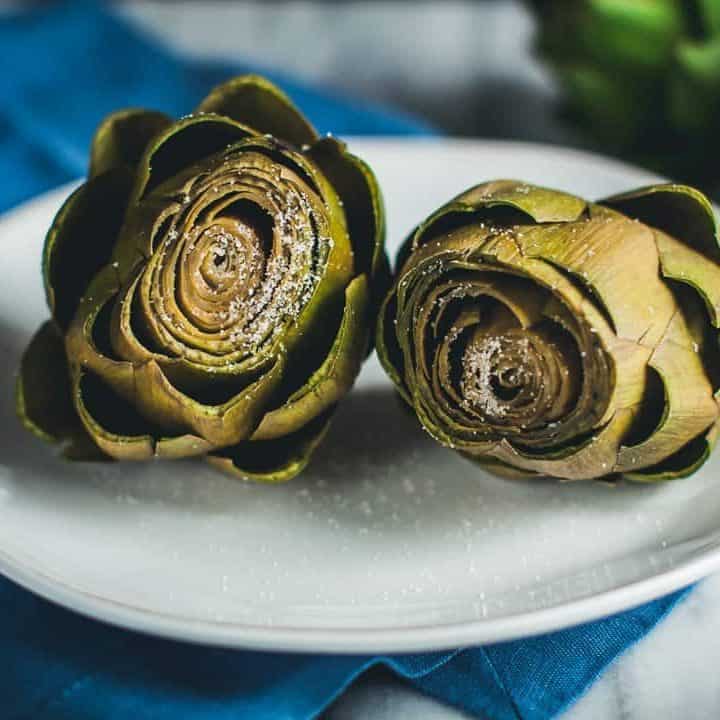 Steamed Artichokes
Artichokes are such an underrated vegetable. They're full of fiber and an entertaining way to eat with your hands. Try these out and experiment with the sauce!
Equipment
Pressure Cooker

Pot with steamer basket
Ingredients
2

artichokes, top cut off and trimmed

1

cup

water
Dipping Sauce
2

tbsp

butter, melted

1

tsp

lemon

½

tsp

garlic salt
Instructions
To Steam
Boil water in a pot. Place steamer basket into pot. Place artichokes face down and cover. Steam for 20 minutes.
To Microwave
Put ½ cup water into a microwavable bowl. Place 1 artichoke facedown in bowl. Cover with plate. Microwave on high in 5 minute intervals until soft.
To Instant Pot
Place 1 cup of water in Instant Pot. Place artichokes facedown into steamer basket and place in Instant Pot. Steam for 10 minutes and then manually release the pressure.
For Butter Dipping Sauce
Melt butter and combine with lemon juice and garlic salt.
NOTES
It doesn't matter if you place the artichoke facedown or faceup. I like facedown so it doesn't collect water inside the artichoke. 
Nutrition
Calories:
161
kcal
Carbohydrates:
14
g
Protein:
4
g
Fat:
12
g
Saturated Fat:
7
g
Trans Fat:
1
g
Cholesterol:
30
mg
Sodium:
808
mg
Potassium:
480
mg
Fiber:
7
g
Sugar:
1
g
Vitamin A:
367
IU
Vitamin C:
16
mg
Calcium:
64
mg
Iron:
2
mg
If you make this recipe, be sure to tag @thatzestlife in your photo! I would love to see what you made!
As an Amazon Affiliate I earn from qualifying purchases.