Salsa Verde Chicken is one of my family's favorites because it is endlessly customizable and easy to throw together for a weeknight meal. Whether you make it in an Instant Pot or a slow cooker you don't have to spend too much time in the kitchen to get food out on the table. Originally inspired by the recipe from NYTCooking by Sarah Digregorio.
Jump to:
Join our mailing list
We'd love to have you stay a while! Subscribe for more recipes straight to your inbox. Recipes and only recipes.
Equipment Needed
If you are following my recipe card then you will need an electric pressure cooker or Instant Pot, as my instruction use that method. However, you can also use a slow cooker or cook this on the stove top!
Slow Cooker Instructions
For the slow cooker, cook on high for 4 hours and make sure that you blister the vegetables before adding them so that you get maximum flavor. Ensure that chicken is cooked through before serving.
Stove Top Instructions
First start by blistering the onions, green peppers, and jalapenos in a large pot. Add the chicken and remaining ingredients. Allow to come to a boil, then reduce to a simmer. Simmer for about 30 minutes or until the chicken is cooked through.
Ingredients and Substitutions
The number one most important part of making a delicious salsa verde is loving the salsa that you use as the base. Don't use one that you feel just ok about, because then you're going to feel just ok about your final dish. When I first discovered Trader Joe's Green Dragon Hot Sauce I put it on everything for a week. I loved how different and wonderful it tastes with so much flavor. That's how you want to feel about the the one you use. I love the dragon hot sauce so I absolutely loved the flavor of my dish.
I wanted more chunk to my salsa verde chicken so I added a lot of vegetables like corn and onion. If you like a more soupy version, reduce the amount of onion, pepper and corn. Or feel free to add vegetables you like better! Anything you'd find in a Mexican restaurant would make sense here. I also charred my vegetables before pressure cooking them because I like the flavor that comes from getting that maillard reaction on the vegetables. There is a distinctive flavor that comes with browned food that adds more dimension. My recommendation is to brown whichever veggies you chose.
Onion- I'm the kind of person who puts an onion into everything I make. If you are low carb or dislike onions you can omit. I recommend sautéing them with the bell peppers and jalapeno until they are starting to caramelize for the best flavor addition before adding the remaining ingredients.
Bell Pepper- Sometimes I use a red bell pepper, sometimes I use a green one, sometimes I leave it out if I don't have one handy.
Jalapeno- If you don't want your salsa verde to be spicy then omit. If you like the flavor and just want to tone it down, then remove the seeds before dicing.
Chicken- You can use your preference of boneless skinless chicken. I prefer thighs just in general, but you can also use skinless chicken breasts as well. Omit if you are vegetarian of course!
Favorite Green Salsa- As noted above this is the most important part! You must use a salsa that you love. My family has also substituted a jar of 505 Green Chile Salsa because we are from New Mexico and believe it goes on everything. 
Corn- I think the color here is great and adds a bit of sweetness to the dish. I enjoy using Trader Joe's Roasted Corn because it's easy to keep around and I love the flavor.
Hatch Green Chiles- Omit if you don't have any, but I highly recommend trying hatch green chile from New Mexico! Amazing on everything. 
Seasonings- I like the boost of flavor that you get from garlic, onion and cumin. Really amps up the flavor of the entire dish.
Limes- I think that any Mexican dish calls for finishing with a squeeze of lime juice. It brightens up the flavors and that acidity adds a lot to the final dish.
Cilantro- I love fresh cilantro, but if you are of the group who think it tastes like soap, please feel free to omit.
Green Onion- I'm a big fan of adding something crunchy on top of a saucy dish because it gives you a better mouthfeel. 
How to serve:
So you have a big batch of salsa verde with chicken... now what? There are SO many ways that you can use it up and keep it interesting on the menu rotation.
Enchiladas- When making the salsa verde, omit the chicken. Instead, put your shredded meat of choice (pork would be amazing) in tortillas rolled into the bottom of a casserole dish. Cover with salsa verde and cheese and bake until nice and bubbly.
Tacos- Same as with the enchiladas, fill tacos with shredded meat of choice, and top with salsa verde sauce.
Rice Casserole- If you're prepping meals ahead of time then turn your salsa verde into a casserole. Line a casserole dish with rice and a generous amount of lime juice, top with salsa verde and bake until bubbly. I like topping with cotija cheese before serving.
Nachos- This makes amazing nachos! Simply cover a baking sheet with chips, top with the salsa verde, then add cheese. Bake in the over for about 10 minutes until the cheese has melted. Top with sour cream, onions, and avocado.
Chilaquiles- This is one of my favorite ways to use up leftovers! Check out the recipe for the best chilaquiles.
Frequently Asked Questions
What is salsa verde good with?
Anything Mexican! I love to serve this with tortilla chips or rice. You could also top with sour cream or cheese.
What is salsa verde made of?
Typically salsa verde is just a green salsa made with tomatillos instead of red tomatoes.
Can you freeze leftovers?
You can freeze leftovers by storing in a ziplock freezer bag and removing all the air. Reheat over the stove. You could also combine all ingredients in the bag and freeze before cooking. Add to pressure cooker and pressure cook for 30 minutes or until fully cooked.
What if I don't like spicy food?
Use a mild green salsa and omit jalapenos and green chile. You can always serve sautéed jalapenos on the side for anyone who does like spicy food.
I can't wait for you to try this and see what changes you have made to make this yours! Let me know what you think and tag me in your pictures @thatzestlife! You may be the source of my next inspiration.
If you like this, use the leftovers to make Chicken Chilaquiles! Super simple and extra delicious.
Recipe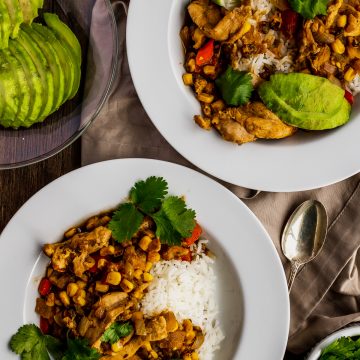 Instant Pot Salsa Verde Chicken
Salsa Verde Chicken is a go-to recipe for busy weeknights; it's easy to make in the Instant Pot, and you can serve it as enchiladas or in a chicken bake with rice. It's one of my favorite Instant Pot recipes because it's packed with flavor, and it's low carb too! You can also use your favorite salsa verde in the recipe; I like to use Trader Joe's Green Dragon Sauce because it has great flavor and is spicy! Use your favorite green salsa and you will love this dish too.
Equipment
Pressure Cooker/Instant Pot
Ingredients
1

onion, diced

1

green pepper, diced

1

jalapeno, diced

(seeds removed if you don't like things too spicy)

2

pounds

boneless skinless chicken thighs, sliced

18

oz

favorite green salsa

(I love Trader Joe's green dragon hot sauce)

2

cups

frozen corn

(I use Trader Joe's roasted frozen corn)

½

cup

hatch green chiles, diced

1

tbsp

ground cumin

1

tbsp

ground garlic

1

tbsp

ground onion powder

2

limes

cut into wedges

1

bunch

cilantro, chopped

1

bunch

green onion, chopped

(white and green parts)
Instructions
In a skillet over high heat, add 1 tbsp oil and roast onions, green peppers, and jalapenos until starting to brown. Add onion, garlic, and cumin powders and stir to combine, until fragrant.

Add chicken, salsa, frozen corn, green chiles, and onion spice mixture to the Instant Pot. Stir to combine. Set Instant Pot to Manual and let come to pressure for 8 minutes then allow the pressure to release naturally for 10 minutes then release remaining pressure. If sauce is too thin, remove chicken and allow the salsa verde to simmer until reduced. Return chicken.

Serve hot over rice, as tacos, over chips, in tacos etc. Garnish with lime wedges, cilantro, and green onion.
NOTES
You can saute you veggies in the Instant Pot using the "saute" function. I don't prefer that method because I like having control over the heat and getting a really good blister on my vegetables. If you want a 1 pot wonder, go for it all!
Nutrition
Calories:
300
kcal
Carbohydrates:
23
g
Protein:
32
g
Fat:
9
g
Saturated Fat:
2
g
Trans Fat:
1
g
Cholesterol:
144
mg
Sodium:
797
mg
Potassium:
834
mg
Fiber:
3
g
Sugar:
7
g
Vitamin A:
830
IU
Vitamin C:
30
mg
Calcium:
49
mg
Iron:
3
mg
If you make this recipe, be sure to tag @thatzestlife in your photo! I would love to see what you made!
We thought you might also like these Chicken Recipes!