If you've seen any number of cooking shows, odds are you're aware of the great BBQ debate. Some declare Kansas City's combination of sweet and tangy flavors reigns supreme. Others would argue North Carolina's thinner, vinegar-based sauce is best. And Texans stand firm that no one does it better than them. But no matter which side of the debate you land on, one thing all true aficionados can agree is that nothing tastes better than Homemade BBQ Sauce.
Our family is no exception. My grandmother's famous sauce has been passed on through generations and offers a truly unique take on the classic condiment. I'll bet you've never seen anything like it.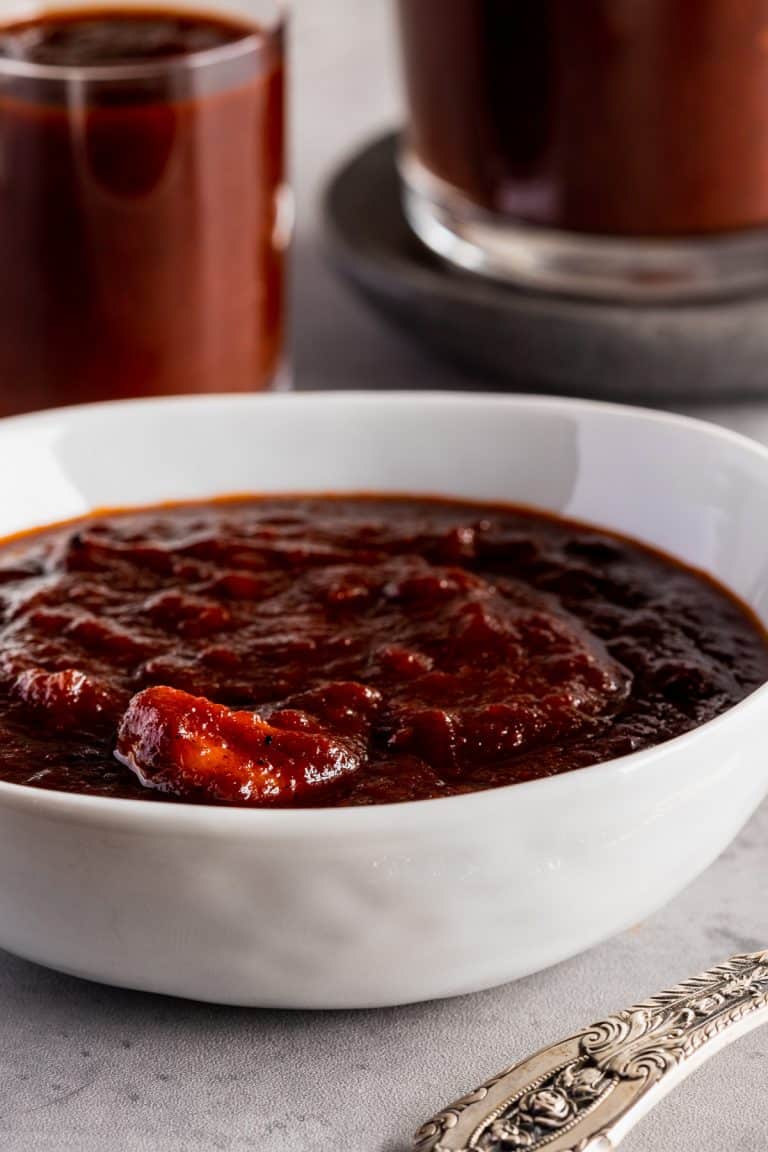 Jump to:
Maybe the biggest benefit to making BBQ sauce from scratch though, is that you can tailor it to your liking and any dietary needs that may have held you back before. Don't worry about saying no to pulled pork and other summer favorites. This simple sauce is easy to make and even easier to modify. I've included substitutions to make sure you can slather it on no matter what restrictions you may have.
Equipment
You don't have to be a Michelin-starred chef to knock homemade BBQ sauce out of the park, you just need a few basic cookware pieces. I like to make my BBQ sauce in a pot on the stove so I can watch all the ingredients come together to make magic but try throwing everything in a slow cooker or that instant pot you keep meaning to use if you're pressed for time. If you do make it on the stove, I'd recommend keeping a lid handy to ward off any errant splatters.
And if you really want to get fancy, you can use an immersion blender to smooth out your sauce before serving or storing. I like this one by Braun from Amazon. It's not too expensive and comes with a few add-ons.
Ingredients & Substitutions
I always love to experiment with recipes and recommend you do too to bring out the flavors you love most. Many of the ingredients in this recipe are pretty standard, though I've included a few substitutions you can make if you have trouble finding anything or want to make sure you stay compliant with Whole 30, paleo, gluten-free, and vegan diets.
Pork Liquid – Just like this sauce, homemade is best. You can simmer 1 ½ cups water with 2-3 strips of bacon for 5 minutes to create a diluted bacon fat mixture. I love cooking with bacon fat because of the richness it adds, but you can swap it out for Liquid Smoke to save time or keep this sauce vegan/Halal.
Ketchup – This is a staple and serves as the base for most homemade BBQ sauces. You can swap ketchup for tomato sauce though if you're looking to avoid high fructose corn syrup. If you're on Whole 30, look for a compliant version in the same aisle as Heinz. Most grocery stores have a wide selection of Whole 30 and Paleo ingredients now. I like Primal Kitchen and haven't had a hard time finding it.
Cayenne Pepper – Cayenne is the ground version of red pepper and is great for adding heat to all kinds of sauces. If spicy is your thing, start with ½ tsp and add with care until it's got the perfect amount of kick for you.
Sugar – Sugar adds a necessary sweetness to your homemade BBQ sauce, but there are tons of substitutes you can use depending on your dietary needs. I like using monk fruit sweetener, but you can also use honey, maple syrup or molasses as other natural sugar substitutes. You could also use brown sugar.
Worcestershire Sauce – This is an important component that adds depth and umami to your sauce, but if you're looking for a gluten free, Whole30 or paleo alternative, try using 1 tablespoon of coconut aminos and 1 tsp of apple cider vinegar instead.
Tarragon Vinegar – If you've never heard of this, you're in the majority. But it's a secret weapon that adds that je ne sais quoi to your dish. If you can't find it in the grocery store, it's available online. A dry white wine, like chardonnay, can also be used instead.
Tips & Tricks for the Best Homemade Sauces
When making a sauce, it's important to take time building flavors. In the case of our family's BBQ sauce, you'll sauté the onions and garlic first for five minutes, so they have time to release their oils and begin to soften. As you add spices, be patient and wait until they "bloom" to move on. Blooming is the process of heating your spices in oil/fat. It amplifies their flavor, and you'll know it's working as they become more fragrant. As you add your other ingredients, do so one at a time, so all flavors become fully developed for the most complex, I-can't-believe-they-made-this-at-home taste.
Once your sauce is done, give it a good dip. Too thick? Add a little water to thin it out. But just a tablespoon at a time until it's perfect. Too thin? Let it simmer. Sauces begin to thicken on their own as you let them simmer over time.
My Favorite Ways to Enjoy
Barbecue sauce is one of the most versatile condiments out there. Feel free to slather it on just about anything, but here are a few of my favorites:
Meat! - Ok, this is a gimme, but beyond the traditional pulled pork and ribs, this tangy sauce is great on chicken wings or served as a dipping sauce for brisket. Don't forget pouring homemade barbecue sauce on sandwiches! I love using pulled pork for a bbq pork sandwich.
One-Pot Meals - Your slow cooker or instant pot loves moisture and nothing adds flavor quite like BBQ. Pour it on meatballs, add it as a topping for meatloaf, or add some to these Instant Pot Sloppy Joes.
Sides - Whether it's for dippin' or for slatherin', try serving with sweet potato fries, onion rings, or - my personal favorite, tater tots.
Pizza - The sky is the limit here! Try making a more traditional BBQ Chicken Pizza with red onions and cheddar cheese. Get creative with other toppings like shredded pork and pineapple.
Frequently Asked Questions
Can I store leftover BBQ sauce?
Yes! Just make sure you let it begin to cool first. I rinse out the now-empty ketchup bottle and use it to store my homemade barbecue sauce, but any airtight container will do. If you have a funnel, that's the easiest way to transfer it from the stove or slow cooker.
How long will BBQ sauce last?
Since homemade sauces don't have preservatives, I'd recommend refrigerating your leftovers and using within 7-10 days.
Can I freeze BBQ sauce?
If you store your leftover BBQ sauce in an airtight freezer-safe storage container, you should have no problem freezing it. It'll last up to 3 months!
I can't wait to see what you do with this recipe! When you try it, I'd love for you to tag @thatzestlife to show me your results and how you served it. If you want more recipes like these straight to your inbox, SUBSCRIBE to our mailing list!
Recipe
Homemade BBQ Sauce
There is nothing like Grandma's Homemade BBQ Sauce. This version has been passed down this southern family for generations and there is nothing like it! Don't skip out on the pork water. Sounds weird, but makes a huge difference in smoky flavor.
Ingredients
1

tbsp

butter or olive oil

1

small onion

(diced fine)

8

cloves

garlic

3

tbsp

chili powder

¾

cup

tarragon vinegar

3

tbsp

Worcestershire sauce

1

cup

salt pork liquid

(Simmer 1 ½ cup water with 2-3 strips of bacon for 5 minutes)

½

cup

sugar

28

oz

ketchup
Instructions
Heat butter in a large sauce pan over medium heat. Sauté onions and garlic for 5 minutes until the onions turn translucent and the garlic begins to brown lightly.

Add chili powder and sauté until fragrant, about 30 seconds. You can also add your teaspoon cayenne pepper at this stage, if you're using.

Add tarragon vinegar and Worcestershire. Simmer for 1 minute.

Add salt pork liquid, sugar, and ketchup. Stir well to combine.

Place lid or splatter guard on top. Reduce heat to low. Simmer for 1 hour, stirring occasionally.

Store in the fridge for up to 1 week. Use for chicken, pulled pork, dipping sauce, ribs or any assortment of BBQ!
NOTES
If you're looking for substitutes for any of the ingredients, check out "ingredients and substitutions" above! You'll find subs for all of the ingredients as well as where to find hard to find ones.
Nutrition
Calories:
400
kcal
Carbohydrates:
87
g
Protein:
4
g
Fat:
4
g
Saturated Fat:
2
g
Trans Fat:
1
g
Cholesterol:
8
mg
Sodium:
2052
mg
Potassium:
911
mg
Fiber:
3
g
Sugar:
71
g
Vitamin A:
2896
IU
Vitamin C:
14
mg
Calcium:
86
mg
Iron:
3
mg
If you make this recipe, be sure to tag @thatzestlife in your photo! I would love to see what you made!
Check out these other favorites!