If you struggle to fry an egg without breaking the yolk then this basted egg recipe is for you. I've been basting my eggs for years now after I discovered this no-flip technique. This is a fool proof recipe for over medium eggs regardless of whether you're cooking one or a dozen. Impress your friends and family with some beautiful avocado toast with homemade bread and picture perfect eggs.
Jump to:
If you like what you see here, subscribe for updates! As we grow you'll have first dibs to all new content!
Equipment
For this basted egg recipe you will need two things! A nonstick skillet and a lid that fits. You'll find it easier to get your eggs perfect every time if you are using a glass lid because you can watch the eggs cook and pull them at exactly the right time.
Now what about if you are wanting to pull of picture perfect eggs? You know, the ones that are perfectly oval and have none of the flaky eggs whites that spill over the entire pan. The secret to the perfect eggs it to use a fine mesh sieve. Check out the information below on how to make beautiful fried eggs under tips for more details.
Ingredients and Swaps
Butter- I like to fry my eggs in butter. I love the flavor that it adds and I'm from the south so my motto is the more the better. I like to use salted butter for my cooking, but you could also use unsalted and add more salt later. You can also use an olive oil spray or oil if you'd like. Having trouble with your butter burning? Add half butter and half oil. That'll fix the problem!
Paprika- You may be wondering, why do you call for paprika? Toasting paprika in the butter before adding your eggs adds a really lovely pop of red, but also adds a subtle hit of flavor that really enhances the overall flavor the egg. This is my secret ingredient for making the best tasting fried eggs.
Eggs- Obviously. There are no substitutions for basted eggs without eggs.
Salt- You can add this over the top of the eggs before covering with the lid, or I like to use kosher salt as a finishing salt over the top of my dish just before serving.
Step-by-Step and Tips
Continue reading for more in-depth instructions on how to get this right the first time!
Heat skillet over medium high heat. Egg whites set at 155 degrees while egg yolks begin setting around 145 degrees. This means that in order to get runny yolks but have set whites, you're going to want the pan just on the high side of medium. Once hot (wait a minute or two), add butter or oil.
You're ready to add the eggs once the butter is melted and just after the frothing has subsided but the milk proteins haven't yet begun to brown. This is a sign that the water in the butter has evaporated and it's ready to impart maximum flavor. You could use brown butter, but it may burn as you cook the egg.
Add a pinch of paprika, wait about 15 seconds or until you can smell the paprika. That's the sign it's toasted enough.
Then add the eggs to the pan and place lid on top. The beauty of this method of basting eggs is that you're not doing any flipping, so you can really load up eggs for the whole family. If you have strained your eggs beforehand they'll separate easily. If you haven't then you'll just want to cut the egg whites around the eggs to serve. This method help cook the egg evenly preventing having uneven whites. If you would like more tender egg whites, then add a tablespoon of water to the pan with the egg. This will create more steam and make your eggs more tender. I don't find this to be necessary.
Keep an eye on your eggs while they steam. It should take anywhere from 1-2 minutes. You'll notice the egg yolks get a white layer over the top of them which is an indication that the egg whites have set. If you want firm egg yolks wait another 30 seconds for perfect over medium eggs.
Remove from heat and serve. You'll be delighted to know that you can just slide these right out of the pan, no spatula required.
Other egg dishes you may like...
How to Make Beautiful Fried Eggs
When you see beautiful pictures of egg dishes with perfect oval eggs, you may be thinking that it's the result of meticulously cutting off the thin crispy part of the egg white. But there is an easier way that keeps your eggs beautiful and hot right out of the pan! You'll want to crack them over a thin mesh strainer. Any of the thin egg whites that create the crispy whites will slide through leaving you a perfect eggs.
The best part about the this method is that when you're cooking a lot of basted eggs, they stay separated and are easy to drop onto plates without having to cut them up. Personally I like the crispy part, but when I'm making eggs for a sandwich I want them to be more uniform in shape.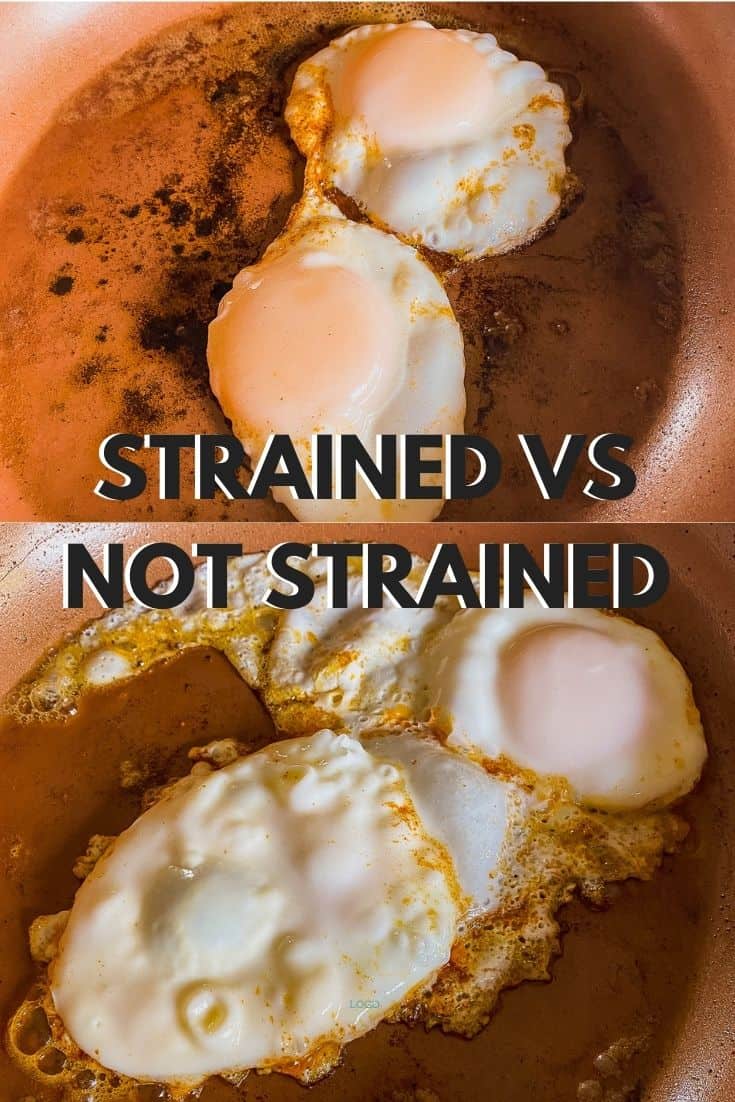 FAQ
Are brown eggs healthier than white?
The color of the egg is not indicative of the health of the egg, but rather the breed of the chicken. If you buy your eggs from a local farm you'll find you get a variety of colors from white to brown to blue! You won't get any additional health benefits from brown eggs and there is no difference in taste.
Should I use butter or oil to fry eggs?
Either or both! Butter lends a creamy toasted flavor to the eggs, while oil allows you to get a really crispy basted egg. You can do half and half to reap the benefits of both worlds and ward off burning!
What's the difference between poached and basted eggs?
A poached egg is an egg cooked in water. A basted egg can either be cooked by spooning hot fat over the top of the egg as it cooks or it can be steamed by using a lid. Basting eggs are a fool proof method to the perfect medium egg.
What are eggs with runny yolk called?
If you like your egg yolks very runny then you are looking for an over easy egg. Pull your basted eggs off the stove just as you see the white has formed over the yolk.

If you like the whites to be just this side of done, then you like sunny side up eggs. Pull your eggs off of the heat as soon as you see the yolk beginning to turn white.

If you like your eggs creamy in the center but mostly come together then you're looking for an over medium egg. Wait about 30 seconds after the white has formed to serve your eggs.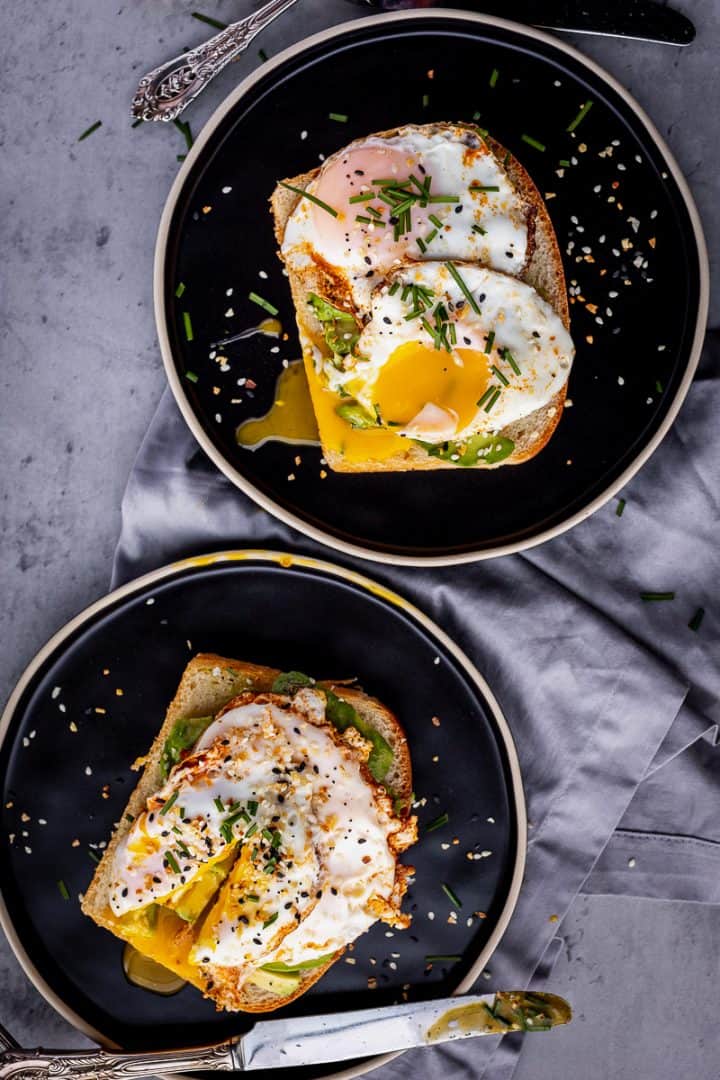 And there you have it! The perfect basted eggs. Your avocado toast will never be the same and I can assure you that you'll find plenty of ways to use this fool proof method! If you make them please leave a comment below! We'd also love for you to take us in a picture on social media @thatzestlife!
Recipe
Basted Eggs- Perfect Over Medium Egg
Brunch is one of the most enjoyable meals. It is a time to gather with friends and family and enjoy some of your favorite foods. One of the most popular brunch items is the fried egg usually served over medium. These basted eggs can be cooked en masse so you can get everyone's breakfast out together without breaking a single yolk!
Equipment
Nonstick skillet with lid, glass lid preferred

Wire mesh strainer *optional*
Ingredients
1

tbsp

butter

(can also use olive oil)

1

pinch

paprika

(*optional)

1

egg

1

pinch

salt
Instructions
Heat skillet over medium high heat. Once hot (wait a minute or two), add butter or oil.

Once the butter is melted and starting to froth, sprinkle the pinch of paprika over the butter.

After 15-30 seconds or until you can smell the paprika, add the egg and sprinkle with salt.

Allow to steam for 1-2 minutes until the egg yolk has a white layer over it. Remove from heat and serve. If you want a more cooked egg, wait another 30 seconds after the white layer appears.

Serve hot by sliding the egg from the skillet onto your plate.
NOTES
Don't let the butter burn! Brown is ok.
If using oil, wait until oil is shimmering before adding paprika.
If not using paprika (just adds a subtle flavor) then add egg once butter is starting to bubble or froth. 
If you'd like a more tender egg white, add a tablespoon of water to the pan before placing the lid on the skillet. 
Nutrition
Calories:
164
kcal
Carbohydrates:
1
g
Protein:
6
g
Fat:
16
g
Saturated Fat:
9
g
Trans Fat:
1
g
Cholesterol:
194
mg
Sodium:
162
mg
Potassium:
66
mg
Fiber:
1
g
Sugar:
1
g
Vitamin A:
619
IU
Vitamin C:
1
mg
Calcium:
28
mg
Iron:
1
mg
If you make this recipe, be sure to tag @thatzestlife in your photo! I would love to see what you made!
Check out our most popular posts!