If you're looking for fool proof fall apart pork shoulder then you must make it in the Instant Pot. Not only does this free your oven up for other things, but it also takes a fraction of the time of other methods. This three ingredient shredded pork is delicious in tacos or enchiladas, or on its own with rice and beans. My personal favorite is to make pulled pork sandwiches with homemade BBQ sauce.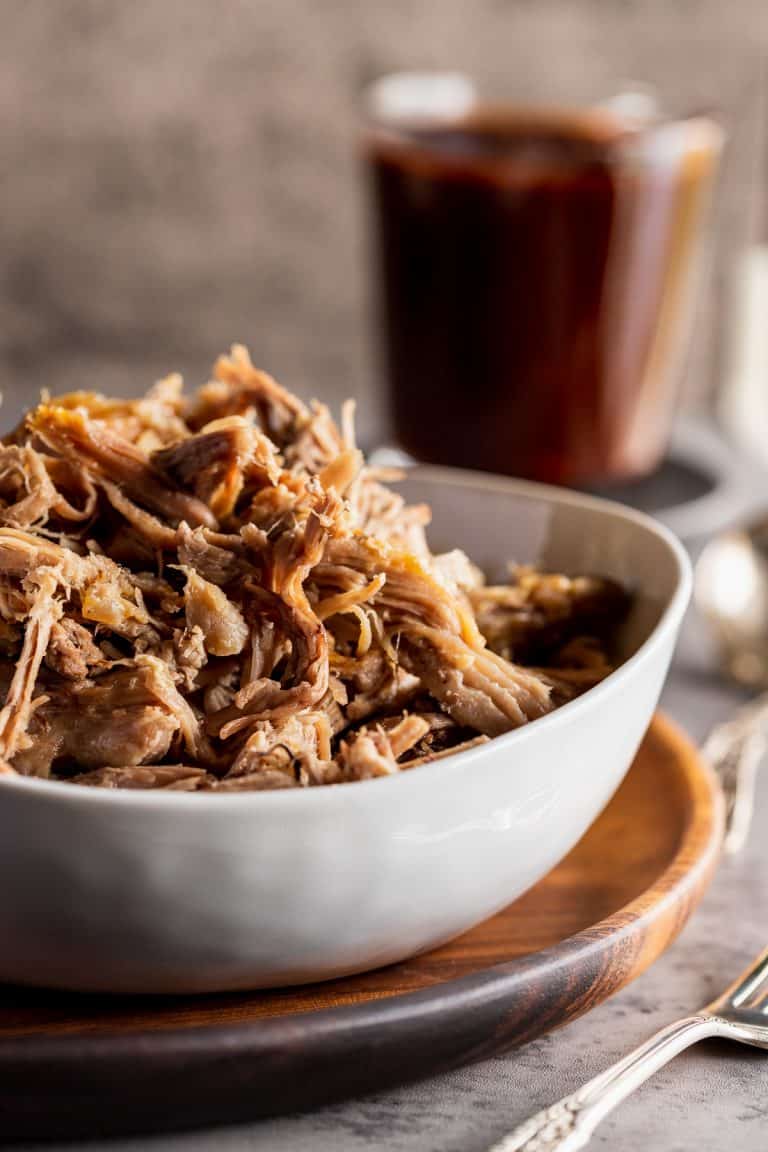 Jump to:
Sign Up for Emails to Stay in the Know
At That Zest Life we work hard to give you incredible food that uses fresh, natural ingredients. You will find very little processed food here! If you're looking to feed your family delicious and easy food that you can feel good about then sign up for emails! You'll get new recipes straight to your inbox!
Equipment
For this version of pulled pork you will need a pressure cooker of some kind. The Instant Pot is wildly popular for good reason! Electric pressure cookers are much easier and safer that the traditional stovetop pressure cookers. Perfect for the beginner chef. 
You will also want to use a trivet that fits into your pressure cooker. This helps elevate the pork pieces above the water so you are truly pressure cooking it vs boiling it (eww).
Slow Cooker Method
You could also use your slow cooker. Add just a few tablespoons of water and cook on high for 6-8 hours or until fork tender. It should pull apart easily otherwise, keep cooking.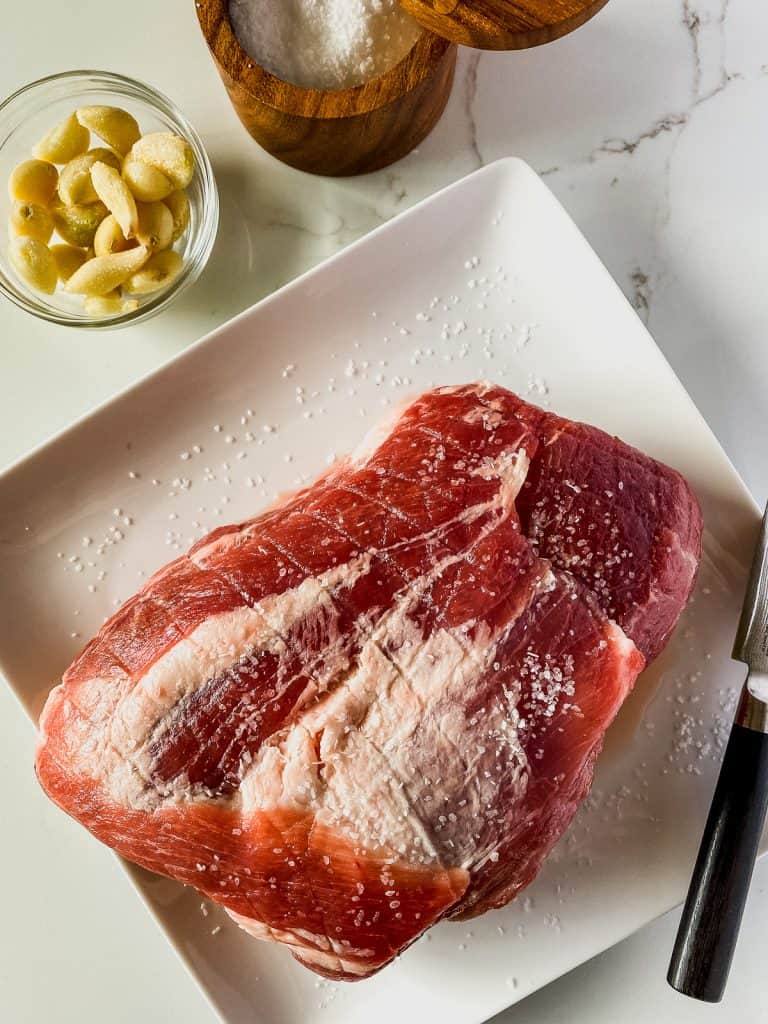 Ingredients
Pork Shoulder- Typically a tough piece of meat that benefits from pressure cooking or slow cooking. You may find it bone in or boneless. I've used either, but you'll want to make sure you remove the bone before shredding. You can also use pork butt roast, which is a different cut of meat that is just above the pork shoulder. Read more about pork butt vs pork shoulder here to see if you have a preference when given the choice! You may be tempted to use pork loin roast, but I would not recommend that. Pork loin is a much smaller and leaner piece of meat that may dry out quickly. 
Kosher Salt- My number 1 secret to incredible tasting meat is to salt generously the night before. You will be amazed by how much better your food turns out if you don't skip this step. You can also use table salt, just make sure you have an even coating.
Cloves Garlic- This is totally optional, but I love the addition of whole garlic cloves slipped into cuts into the meat. You can just use whole garlic. I like to buy big bags that are already peeled at Costco. I keep them in my freezer for whenever the need arises.
Cooking Liquid- I typically just use a cup of water, but you can also use chicken or beef stock. Regardless of the size of pork that you have, you will still only need one cup of liquid for your Instant Pot to come to pressure.
If you're loving this pork recipe, we think you'll also love these recipes...
Tips and Tricks for the Best Pork
#1 Tip
Salt the night before!!! Allowing your boneless pork shoulder (or any kind of pork roast) to rest in the fridge with salt overnight seasons the pieces of pork from within. All of your pork recipes will benefit from this treatment, so if you can don't skip this step! It's vital for flavorful meat.
#2 Tip
Pork roasts tend to be a bit fatty. This is great for having tender meat, but not great when you get a mouthful of fat in your dinner. When shredding the meat but sure to keep an eye out for the fat from the pork and remove it from the dish.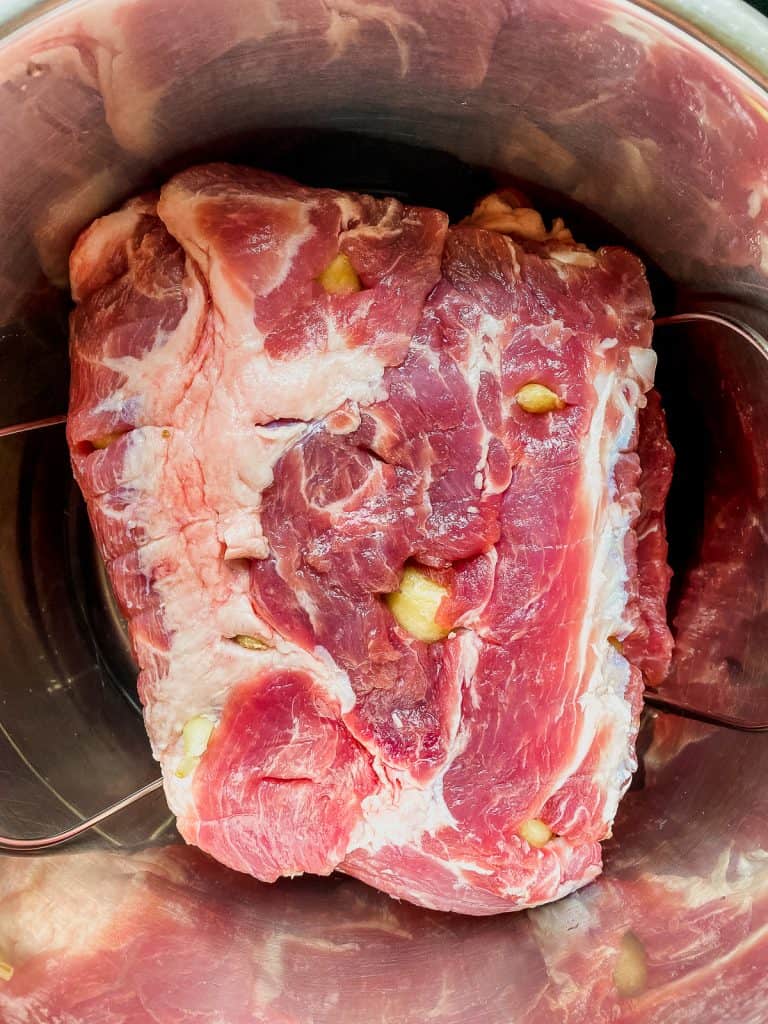 Quick Release vs Natural Release
After the timer goes off, immediately release the pressure (quick release). Then grab a couple of forks and see how easy it is to shred the meat. So many different factors go into how long it takes to cook something in the pressure cooker. Different altitude, the temperature of the liquid you added, the size of your pork roast, if it's in one piece or cut into pieces etc. all impact the time it takes to cook. If you start trying to shred the meat and it isn't simply falling apart, place the lid back on and give it another 30 minutes or so and test again. You want it to be falling apart and fork tender. It shouldn't add too much cook time overall, as it won't take as long to come to pressure since everything is already very hot.
Don't worry if you get distracted and don't quick release right away. Oftentimes I prepare the pork shoulder early in the day and just allow it to natural release to ensure that it's truly as tender as I can hope for.
To Sear or Not to Sear
You may be wondering about searing the meat ahead of time. This does impart flavor to the overall dish so I would recommend this if you aren't using a very flavorful sauce or are serving it as is. It's extra easy since the Instant Pot has a sauté function that you can use. However, if you are mixing it with barbecue sauce then you won't really notice the difference. This is a step I skip more often than not.
Frequently Asked Questions
Where do you buy pork shoulder? 
I often get mine from the meat section at Costco to be more cost effective, but you should be able to find this in the pork section of your local grocery. Don't worry if you only find pork that is cut into pieces, it will work just fine and not take as long to cook fully.
How long do you cook pork shoulder in the Instant Pot?
Set your pressure cooker to high for 90 minutes. Quick release (set the pressure valve to venting right as the timer goes off) and check to see if your pork is falling apart easily. If not, put the lid back on (make sure to set the valve to sealing) and pressure cook for another 30 minutes.
Is pork shoulder the same as pork butt?
They are actually two different cuts of meat. Pork butt comes from just above the pork shoulder. Both are more fatty cuts of meat and may come with a layer of fat and skin on top. I look for more marbled meat as it will be juicier and more flavorful.
How much water do I put in my Instant Pot?
You need at least one cup water (or unsalted chicken stock) in order for your electric pressure cooker to come to pressure safely.
How much meat can fit into a 6 quart Instant Pot?
In general, the consensus is that you can fit 8-10 pounds of meat into a 6 quart pressure cooker. I usually buy a 3 pound piece of pork when I'm looking at the grocery store.
Can I freeze the pork beforehand?
Absolutely! Salt and add the garlic when you get it from the grocery. Store in a freezer safe gallon bag and put it directly into the Instant Pot from frozen. Set your pressure cooker to high for 2 hours and check to see if it is as tender as you'd like.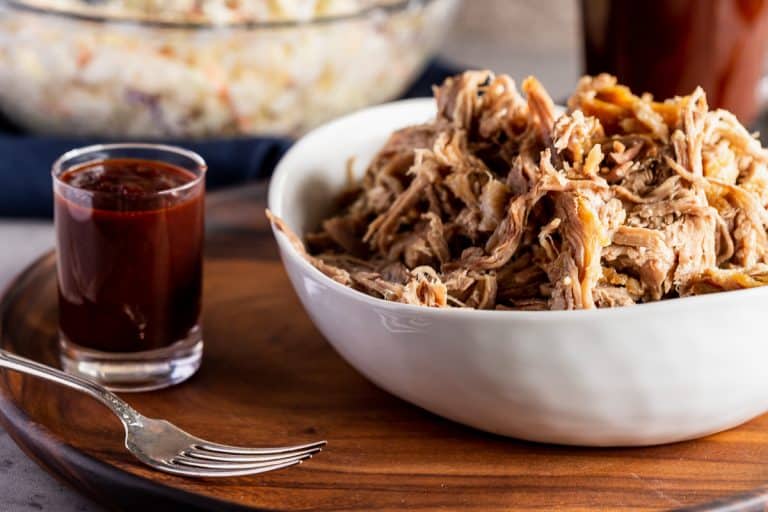 We really hope that you love this pulled pork shoulder as much as we do. It's a great staple for so many other recipes like tacos and enchiladas. You could also do things like add a Korean sauce or cover with pineapple. This is a great basic recipe that can be modified for so many different meals. If you have any questions or if you tried this out and loved it, please leave a comment below! We want you to have the best experience for your zest life. We'd also love to see your pictures! Tag us @thatzestlife so we can see your creations.
Recipe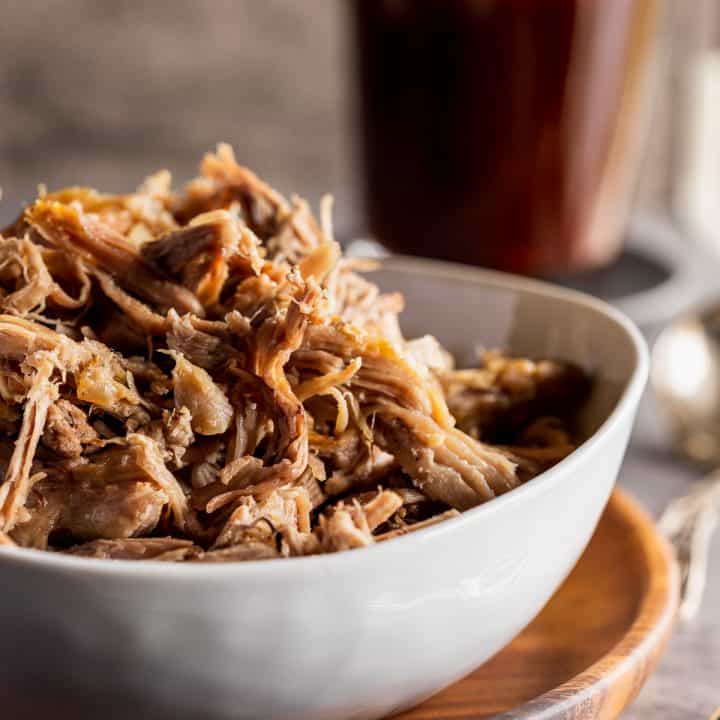 Pork Shoulder in the Instant Pot
If you're looking for fool proof fall apart pork shoulder then you must make it in the Instant Pot. Not only does this free your oven up for other things, but it also takes a fraction of the time of other methods. This four ingredient shredded pork is delicious in tacos or enchiladas, or on its own with rice and beans. My personal favorite is to make pulled pork sandwiches with homemade BBQ sauce.
Equipment
Pressure Cooker

Metal Trivet or Steamer Basket
Ingredients
3

pounds

pork shoulder roast

2

tbsp

kosher salt

8

whole garlic cloves

1

cup

water
Instructions
The night before, thoroughly cover pork roast with salt. Keep in fridge uncovered until ready to use. Remove from fridge one hour before cooking. Alternatively, you can salt pork and use immediately, but not recommended for best flavor.

Using a very sharp knife cut slices into pork and stuff with garlic cloves.

Place trivet in pressure cooker with cup of water. Place pork shoulder in Instant Pot. Place lid on top with pressure valve set to sealing.

Set to pressure cook on high for 90 minutes.

After time has gone off manually release pressure (turn valve to venting). Check to see that pork shreds easily, indicating tenderness. If not done, return lid and pressure cook for an additional 30 minutes.

Remove pork from pressure cooker. Shred and serve immediately. If you're looking for crispy shredded pork, place the pork under a broiler for 5 minutes after shredding.
Nutrition
Calories:
158
kcal
Carbohydrates:
1
g
Protein:
20
g
Fat:
7
g
Saturated Fat:
3
g
Cholesterol:
70
mg
Sodium:
1825
mg
Potassium:
366
mg
Fiber:
1
g
Sugar:
1
g
Vitamin A:
6
IU
Vitamin C:
2
mg
Calcium:
22
mg
Iron:
1
mg
If you make this recipe, be sure to tag @thatzestlife in your photo! I would love to see what you made!