I discovered Thai food around 10 years ago in Port Townsend, Washington while visiting my great-grandparents. For years, the only restaurant in town I wanted to frequent was Banana Leaf. We could walk there from the house and they had amazing yellow curry. I wanted it daily. When I would go home to Texas or to New Orleans I'd be completely without curry for another year. I couldn't find anything even close to what I could get in Washington. After college, I set out on a mission to make a Thai curry that tastes like my favorite takeout.
After a year of making a variation every other week I succeeded! I tried different amount of curry paste and different sugars and different versions of salt to land on this recipe. Of course, I always want you to adjust things as you like too. I always start with these basics and then taste and tweak. Be sure to taste as you go!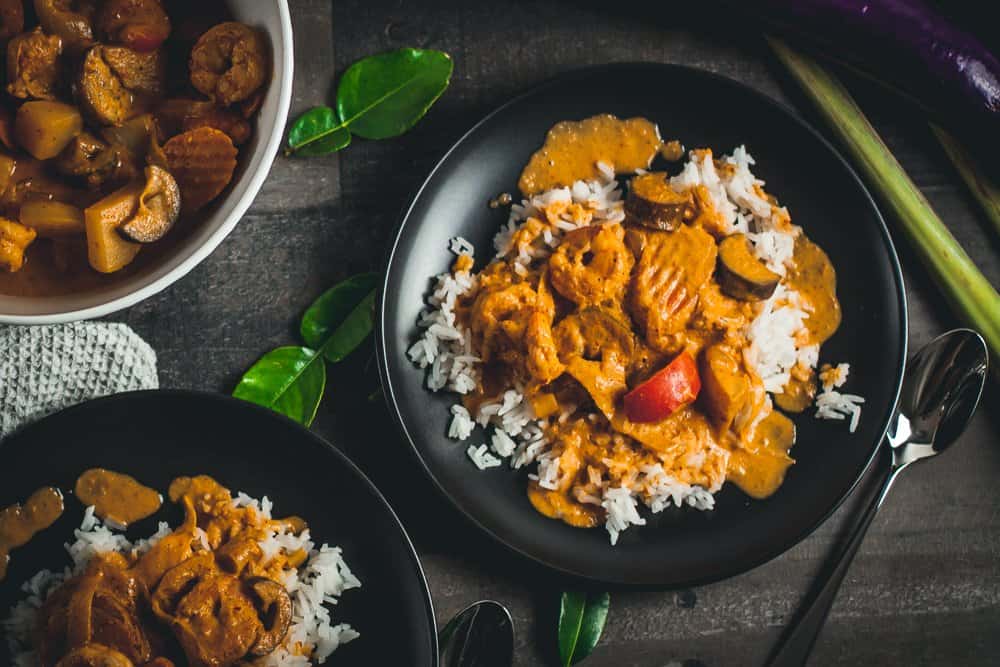 Jump to:
Where to Shop for Ingredients?
One of my favorite places to go is the local Asian grocery. It can be intimidating, but there are so many amazing ingredients there that are hard to find other places. I'm linking some of my favorite ingredients for curry that you can find at any Asian food market. For this recipe, I was out to find Thai Basil but I somehow wound up with Epazote leaves! If you too wind up with an ingredient you don't know what to do with, let me know! I'll go find it too and we can figure it out together. (From some Googling, it looks like you can add epazote leaves into chilaquiles. If you make this mistake too, you'll have to head out and try out the Instant Pot Salsa Verde recipe too!)
Thai Curry Paste
First things first, the curry paste! There are a lot to choose from and you can find the Thai Kitchen brand in most grocery stores. If you like that one or it's the only one you can get, go for it. Mae Ploy Red Curry Paste is my personal favorite. It comes in the largest container, it's fairly cheap, and it's what you usually notice sitting on the line in Thai restaurants so you know it's got the flavor you're looking for!
You can get a tub of green, red, and yellow on Amazon for less that $15 and then you can experiment with what kinds you like best! I use red most often, but they're all really good. Just change up the veggies! Yellow is great with onions, carrots and potatoes. Green is great with eggplant and avocado. When I make Red Thai Curry I usually stick with the basics below, but it's great with anything.
Aromatics, Fish Sauce, & Coconut Milk
The aromatics listed here really give your curry sauce a body that will surpass your local takeouts. You can usually get lemongrass, lime leaves and galangal root at the Asian market for less than $5, and you get quite a bit of them so freeze the remainder! The flavor is diminished quite a bit though, so either triple the amount or let the curry simmer for an hour before serving. If you can't find galangal root you can sub for standard ginger. Don't forget to smash them until fragrant! It really lets out all of the delicious flavors.
The coconut milk you use here definitely matters! My preference is the Trader Joe's coconut milk, but since you're at the Asian market anyway, you may as well pick some up while you're there! I usually go for a couple of cans of Chaokoh. If you like more sauce, then add some coconut broth or water. Just make sure to taste it as you go so the flavors are still there!
Fish sauce is a weird thing. Some I love and some do nothing for me. One that is always consistent is Red Boat Fish Sauce. Thankfully you can usually find this in normal markets too! If you are at an Asian Market, then Three Crabs is good as well. Try out some different ones and see what your preference is! I'd love to get some more recommendations for this tricky ingredient.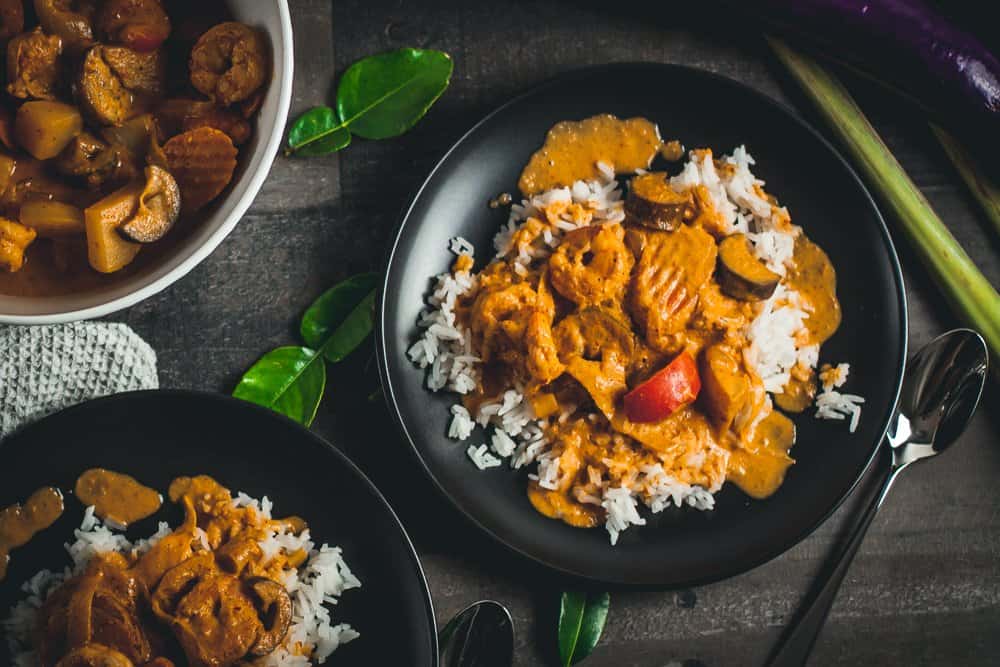 Chicken, Beef, Tofu or Shrimp?
In terms of protein, I always go for shrimp. It's high protein and low fat and is by far the easiest thing to cook. If you get pre-cooked shrimp then all you need to do is warm them up in the sauce and you get perfectly cooked shrimp every time. If you get raw shrimp, make sure to monitor them closely! Shrimp is so easy to over cook. If you do want to go for a different protein, I recommend cooking off slices of chicken or beef ahead of time and adding it back in towards the end to warm and finish cooking.
Need to Modify for a Diet?
Most dishes can be modified to suit any diet and this one is no exception! If you're doing keto or paleo, leave out the rice and switch the sugar to a Golden Monk Fruit Sugar. Keto people will also want to make sure that they leave out the potatoes. If you're doing Whole30, switch the rice out for cauliflower rice and leave out the sugar altogether.
There you have it! Better than Takeout Thai Curry. This is so good I don't even bother ordering curry out anymore. This is packed with more flavor plus you get so many leftovers! I can't wait to hear what you think. Tag me @thatzestlife in your pictures on Instagram and send me a message on Facebook! Happy eating!
Recipe
Thai Red Curry with Shrimp
Curry lovers rejoice! This Thai Curry with Shrimp is even better than your local takeout. Cheap and easy for any weeknight, plenty of leftovers for lunches!
Ingredients
⅓

cup

red curry paste

2

tbls

fish sauce

⅓

cup

coconut sugar (or brown sugar)

2

cans

full fat coconut milk

2

cups

carrot medallions

½

bag

frozen peas

1

large potato, cubed

1

lb

frozen shrimp, defrosted

2

cups

jasmine rice
Aromatics
3

leaves

keffir lime leaves

½

inch

galangal root

((can substitute with ginger))

2

stalks

lemongrass stalks, cut into 3 inch sections
Instructions
Curry Sauce
With the back of a knife or in mortar and pestle smash all of the aromatics until fragrant.

In a medium hot pan, toast curry paste and aromatics until fragrant, about 1 minute.

Add coconut milk, fish sauce, and brown sugar. Stir to combine.

Add carrot medallions and potato cubes. Simmer for 30-45 minutes or until vegetables are tender.

Add defrosted shrimp and frozen peas. Bring back to a simmer and simmer for 2 minutes or until shrimp is warm. Serve over jasmine rice.
For the Rice
Rinse rice with cold water 3 times or until water runs clear.

Add to Instant Pot with 3 cups of water.

Press Rice button and allow instant pot to come to pressure.

After timer has gone off, wait 10 minutes and then release remaining pressure manually.
Nutrition
Calories:
680
kcal
Carbohydrates:
80
g
Protein:
26
g
Fat:
30
g
Saturated Fat:
25
g
Cholesterol:
191
mg
Sodium:
1129
mg
Potassium:
841
mg
Fiber:
5
g
Sugar:
11
g
Vitamin A:
9486
IU
Vitamin C:
25
mg
Calcium:
202
mg
Iron:
8
mg
If you make this recipe, be sure to tag @thatzestlife in your photo! I would love to see what you made!
As an Amazon Associate I earn from qualifying purchases.