Pulled pork is one of those magical dishes that always seems to be in style and a match for every occasion. Whether you're hosting a party, outdoor barbecue, or having people over for the big game, it's a meat you can serve for any occasion and every taste.There's the classic pulled pork sandwich, but you can also use to fill lettuce wraps, tacos, baked potatoes, or even add to pizza. I'll give you the basic recipes here that are easy to adjust for any dietary needs your party may have. From there, let your creativity, and your appetite, lead you on.
Jump to:
Like what you see here?
Join our mailing list for new recipes!
Pork Shoulder or Pork Butt - What's the Difference?
Both cuts come from the shoulder and do well in a slow-cooker for tender, juicy meat, so you can use either. Pork butt is more evenly shaped, so it cooks more evenly too. It also typically comes with a fat cap which produces a richer flavor. If it's available to you, this is the cut I'd recommend. However, boneless pork shoulder is more readily available and the cut I use most often at home.
The most important thing to remember when cooking pork, or any meat really, is to season it well. For my traditional Three Ingredient Pork Shoulder in the Instant Pot, this means a generous coat of kosher salt. If you're looking for meat with a Mexican or Spanish flavor profile, you can also try seasoning with my Homemade Chorizo Seasoning Spice Mixture. Regardless of your flavor choices, salt the night before! You'd be amazed at how much more flavor it imparts.
A Coleslaw for Everyone
Among the soft bread and tender meat, coleslaw makes for the perfect crunch in pulled pork sandwiches. There are tons of pre-prepared coleslaw mixes you can buy at the store, but it's super easy to make. Coleslaw is traditionally a mix of green cabbage, purple cabbage, and carrots. Toss with the dressing of your choice and that's it.
Vinegar-based dressings are compatible with almost all diets. I like to use apple cider vinegar or white vinegar to get more vinegar tang in each bite.
If you like creamy coleslaw, add some mayonnaise. Just add ¼ cup mayonnaise per 8oz of cabbage.
Seasoning coleslaw is easy. Keep it simple with a little salt and black pepper, or add more texture and a slight bitterness with celery seeds.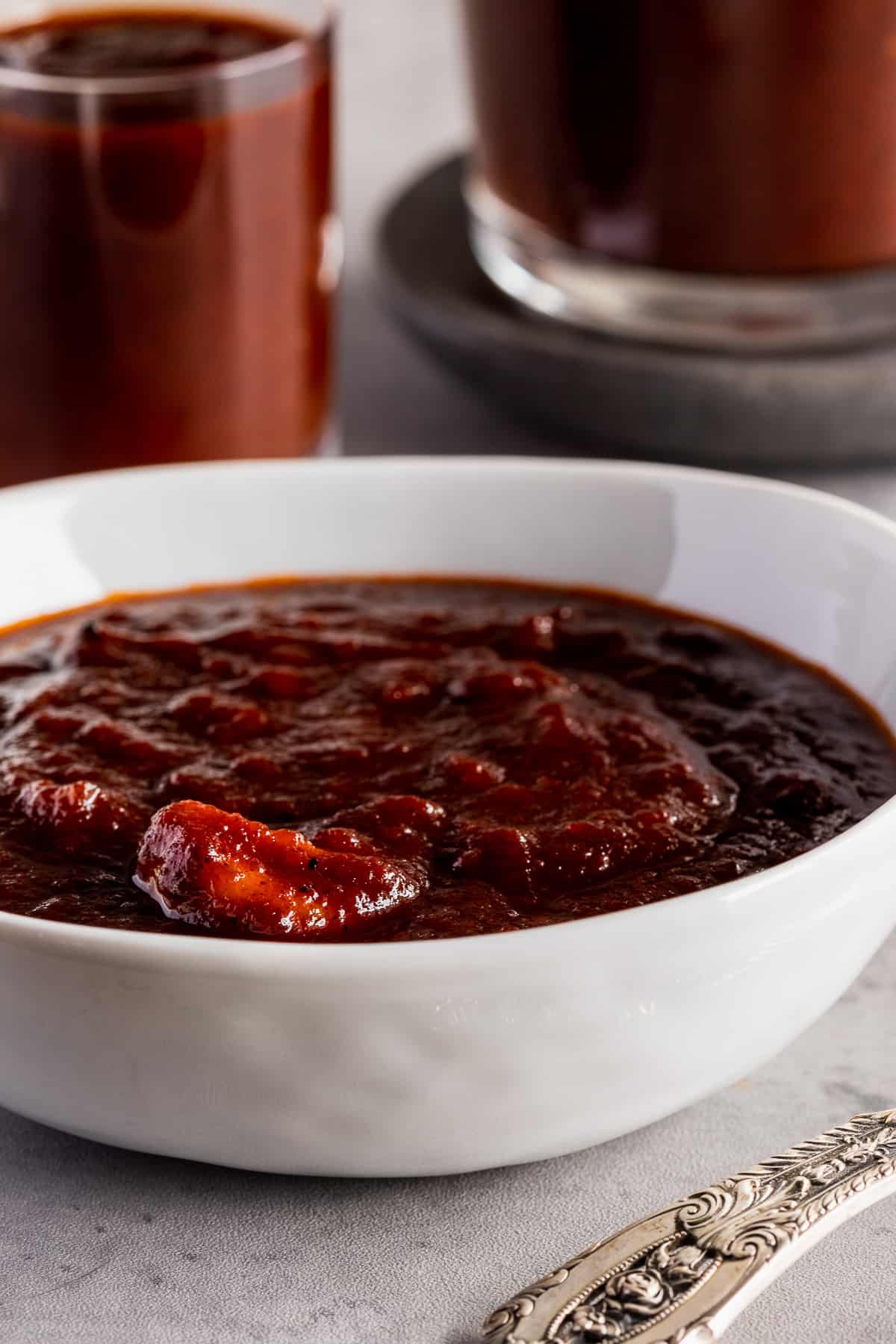 Feel-Good Condiments
There are so many sauces and condiments that go well with savory pork. Even better, there's at least one for any dietary need:
BBQ Sauce - barbecue sauce is a classic, especially for pork sliders and sandwiches. The great news is that most sauce is already low calorie and there are a ton of Whole30 and Keto (low sugar) options at every grocery store these days. You can also try my Grandma's Homemade BBQ Sauce which includes instructions for how to adjust to any dietary need.
Mustard - mustard is naturally paleo, keto, whole30, vegan - you name it. The point is, it's good for you! I'm a fan of old fashioned yellow mustard on pulled pork sandwiches, but dijon will add a little heat and whole grain mustard is great for texture.
Horseradish - horseradish is one of my all-time-favorite condiments to add to meat. Natural horseradish is paleo, keto, and whole30 approved, but be careful when you reach for creamy horseradish. There can be gluten and, you guessed it, cream (sour cream) in horseradish sauce.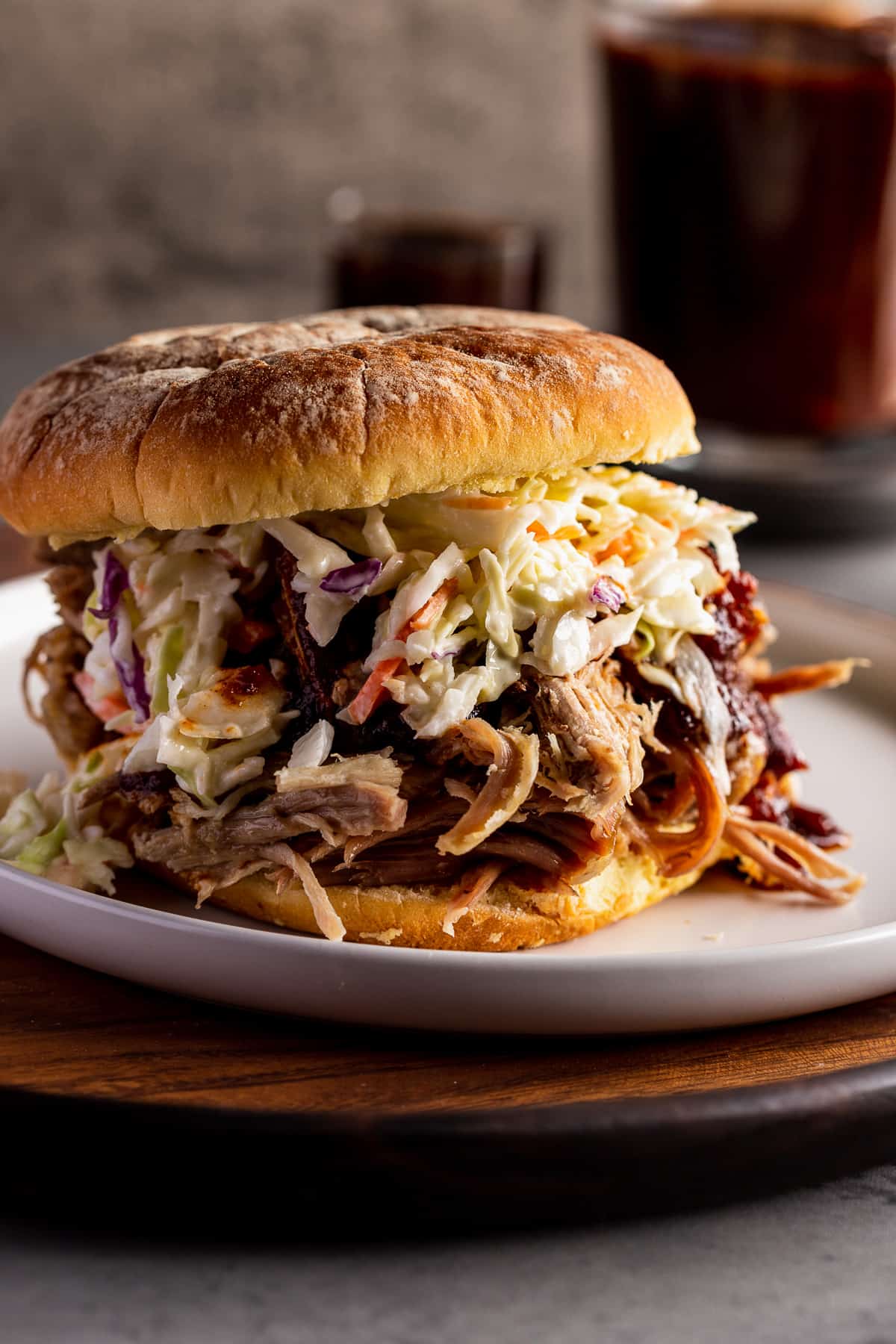 Which Bun is Best?
Classic pulled pork sandwiches are served on soft hamburger buns, but here are a few other options for you as well:
Onion Kaiser Rolls or Hamburger Buns - these are in line with the classic preparation, but the onions add a little umami to each bite.
King's Hawaiian Bread - this is my personal favorite for pulled pork! The sweetness of the Hawaiian bread lends itself well to the savory pork, tangy barbecue sauce, and the crunch of coleslaw stands out against the soft bread. You can use their sliders, but they also make all kinds of other buns now too.
Potato Bread - if you haven't tried potato bread, you're missing out. It's a staple in our house for Thanksgiving leftovers, but it's perfect for pulled pork too. The bread is a little thicker than traditional white bread and the slices tend to be larger. It's easy to find and in nearly every grocery store if you're looking for something different!
Gluten Free Buns - Schär bread is a gluten-free option available at many grocery stores and Walmart. Their bread comes in all varieties, including soft hamburger buns.
Whether it's on a classic pulled pork sandwich, barbecue pork pizza, or any other preparation, this pork recipe is sure to be a family favorite and you'll be hard pressed for leftovers!
Recipe
Pulled Pork Sandwich with BBQ Sauce and Coleslaw
Whether it's on a classic pulled pork sandwich, barbecue pork pizza, or any other preparation, this pork recipe is sure to be a family favorite and you'll be hard pressed for leftovers!
Equipment
Medium sized bowl

Small knife

Pressure Cooker

Metal Trivet or Steamer Basket

Large saucepan
Ingredients
Ingredients for Pulled Pork
3

lbs

boneless pork shoulder

2

tbsp

kosher salt

8

whole garlic cloves

1

cup

water
Ingredients for Coleslaw
2 14

oz

packaged cabbage-and-carrot coleslaw

4

tablespoons

cider vinegar

¼

cup

whole grain mustard

1

teaspoon

salt
Ingredients for BBQ Sauce
1

tbsp

butter or olive oil

1

small onion

8

cloves

garlic

3

tbsp

chili powder

¾

cup

tarragon vinegar

3

tbsp

Worcestershire sauce

1

cup

salt pork cooking liquid

(simmer 1 ½ cup water with 2-3 strips of bacon)

½

cup

sugar or brown sugar

28

oz

ketchup
Instructions
Thoroughly cover pork roast with salt. Keep in fridge uncovered until ready to use (leaving overnight is recommended for the best flavor). Remove from fridge one hour before cooking.

In the meantime, you can prepare your coleslaw. In a medium-sized mixing bowl, add shredded cabbage and carrots. In a smaller bowl, whisk together vinegar, mustard, salt and black pepper. Drizzle dressing into cabbage mixture and toss to combine. Cover with plastic wrap and store in fridge.

Using a very sharp knife, cut small slits into the meat and stuff with garlic cloves.

Place a trivet into the instant pot or pressure cooker with a cup of water before putting in the pork shoulder roast. Place lid on top with pressure valve set to sealing. Set pressure cooker setting on high for 90 minutes.

While the pork is cooking, prepare your BBQ sauce. Heat butter in a large sauce pan over medium-high heat. Saute onions and garlic for 5 minutes until the onions are translucent and the garlic begins to brown lightly. Add chili powder, cayenne pepper (if you like it spicy), and saute until fragrant, about 30 seconds. Add remaining ingredients and stir to combine. Reduce to low and allow to simmer until you're ready to serve.

After your timer for the pork goes off, manually release pressure (turn valve to venting). Check to see that pork shreds easily, indicating perfect tenderness. If not done, return pork to the pot and pressure cook on high for an additional 30 minutes.

Remove pork from cooker, shred and serve immediately.
NOTES
*nutrition value calculated for 8 sandwiches, no bun
Nutrition
Serving:
1
sandwich
Calories:
441
kcal
Carbohydrates:
48
g
Protein:
42
g
Fat:
8
g
Saturated Fat:
3
g
Trans Fat:
1
g
Cholesterol:
106
mg
Sodium:
3253
mg
Potassium:
1223
mg
Fiber:
3
g
Sugar:
37
g
Vitamin A:
1509
IU
Vitamin C:
29
mg
Calcium:
90
mg
Iron:
3
mg
If you make this recipe, be sure to tag @thatzestlife in your photo! I would love to see what you made!
Check out our other favorites!